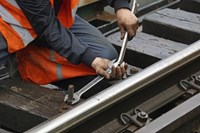 New Johannesburg site to produce MITRAC high power propulsion equipment for TRAXX Africa locomotives
Investment marks Bombardier's commitment to the country's ongoing rail modernization
Rail technology leader Bombardier Transportation inaugurated its new South African production site and headquarters at an event held in Isando, Johannesburg on 25th of August 2016. The opening ceremony was attended by Transnet Group Chief Executive Officer Siyabonga Gama, distinguished guests, partners and Bombardier suppliers.
In April 2014, South African state-owned freight and logistics company Transnet awarded Bombardier a contract for the supply of electric locomotives as part of a 50 billion ZAR contract. The majority of the locomotives are being built at Transnet Engineering's plants in Koedoespoort, Pretoria and Edwin Swales in Durban. All bidders committed to stringent localization requirements, including technology transfer, supplier development and job creation.
Commenting on the milestone, Transnet Group Chief Executive, Mr Siyabonga Gama said, "Bombardier's production facility was an integral step in driving localisation, transformation and economic empowerment. The successful partnership with Bombardier serves a crucial purpose in enhancing and embedding our Market Demand Strategy - and the role Transnet plays in growing our economy."
Per Allmer, President, Bombardier Transportation, Western Europe, Middle East and Africa, added, "We are proud to play such a large role in the development of the country's mobility evolution and transformation and look forward to not only working closely with our South African partners, but also to delivering outstanding quality and unrivalled reliability to the region with our proven technologies."
The new 6,000 square meter facility will produce BOMBARDIER MITRAC high power propulsion equipment for use in the state-of-the-art Transnet Locomotives project, for which Bombardier is delivering 240 BOMBARDIER TRAXX Africa locomotives. The site will also be home to a testing center for high power traction converters and electrical cubicles and will become the headquarters for Bombardier Transportation in South Africa in October.
Bombardier is engaging the African transportation market through job creation and European facilities, and will support the transfer of technology and know-how to the South African rail industry for this project. As of August 2016, the new Johannesburg site has around 100 employees with an ongoing ramp up expected to increase the number of employees to around 200 by 2017.
Bombardier's ongoing commitment to the country is highlighted through a strong local supply chain that will ensure a sustainable future for the nation's industry. More than 60 per cent of the Transnet contract scope is localized, ensuring investments in local manufacturing capacity, training and further improving the skills development of local employees, while working with local partners to achieve the same objectives. These locomotives are truly built in South Africa, for South Africa.
About Bombardier Transportation
Bombardier Transportation is a global leader in rail technology and offers the broadest portfolio in the industry. It covers the full spectrum of rail solutions, ranging from trains to sub-systems and signalling. The company also provides complete transport systems, e-mobility technology and maintenance services. As an innovation driver, Bombardier Transportation continuously breaks new ground in sustainable mobility. It provides integrated solutions that create substantial benefits for operators, passengers and the environment. Headquartered in Berlin, Germany, Bombardier Transportation employs around 39,400 people and its products and services operate in over 60 countries.