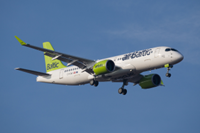 Bombardier Commercial Aircraft will celebrate the C Series aircraft's exceptional first year in service by showcasing airBaltic's brand new CS300 aircraft at the 2017 Paris International Airshow, at Le Bourget airport from June 19 to 25. In addition to the CS300, Bombardier will also be showcasing a Q400 in WestJet Encore colors.
"We are very proud to bring a CS300 in a customer's livery for the first time at an airshow. The C Series truly is a game changing aircraft and we are excited to be able to provide the opportunity for more people to see it for themselves at Paris," said Fred Cromer, President, Bombardier Commercial Aircraft.
"This has been an exceptional year for the C Series aircraft program. The airline industry has been watching as the C Series has consistently delivered on all the things we said it would, and has surpassed even our own expectations," said Mr. Cromer.
Almost a year ago, on July 15, 2016, Swiss International Airlines (SWISS) inaugurated CS100 aircraft revenue service, flying between Zurich and Paris/Charles de Gaulle. By the time of the Paris Air Show the overall C Series aircraft fleet in service will have conducted more than 8,000 flights carrying close to one million passengers.
WestJet Encore's brand new Q400 showcased on static display will soon be integrated to the airline's fleet. This Canadian airline has booked orders for 45 Q400 aircraft that are already offering unmatched performance and great operational flexibility.
Bombardier will also feature a virtual reality experience showcasing the innovative new CRJ interior. Paris Air Show attendees will be able to preview the new CRJ interior that delivers an enhanced passenger experience and more value for airlines.
The airBaltic CS300 airliner and the WestJet Encore Q400 turboprop will both be located in the aircraft static display near the Bombardier chalet located at #282.
The C Series Aircraft Limited Partnership, an affiliate of the Bombardier Commercial Aircraft segment of Bombardier Inc. manufactures the C Series Aircraft.
About Bombardier
Bombardier is the world's leading manufacturer of both planes and trains. Looking far ahead while delivering today, Bombardier is evolving mobility worldwide by answering the call for more efficient, sustainable and enjoyable transportation everywhere. Our vehicles, services and, most of all, our employees are what make us a global leader in transportation.
Bombardier is headquartered in Montréal, Canada. Our shares are traded on the Toronto Stock Exchange (BBD) and we are listed on the Dow Jones Sustainability North America Index. In the fiscal year ended December 31, 2016, we posted revenues of $16.3 billion. News and information are available at bombardier.com or follow us on Twitter @Bombardier.