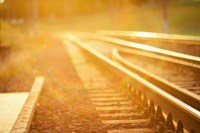 BOMBARDIER AVENTRA vehicles will enable Abellio to ensure more reliable journeys with higher frequencies and reduced journey times
Rail technology leader Bombardier Transportation has been named as the preferred bidder for a major rolling stock order to be produced for the United Kingdom's Department of Transport.
The UK government today announced it has awarded the East Anglia franchise to Abellio East Anglia, who will operate the franchise starting October 2016. The franchise includes rolling stock and Abellio has selected Bombardier to supply British-built carriages. The contract is expected to be finalized within the next few weeks.
Richard Hunter, UK Managing Director at Bombardier Transportation said, "Being named preferred bidder for this significant order is a fantastic endorsement of our workforce and the quality of the products we design, engineer and manufacture here in the UK and will ensure a stable, long-term workload for our staff here in Derby. Our modern AVENTRA trains will provide passengers with greater connectivity, reliability and shorter journey times."
As a rapidly growing metropolis, London is facing an increased demand for improved mobility and connectivity to its surrounding cities. Bombardier has been a key contributor in shaping the development of transportation in the UK and provides mobility solutions from metros to intercity trains as well as the full range of service and maintenance offerings. Bombardier remains committed to providing proven solutions along the rail industry value chain. This announcement reinforces Bombardier's commitment to providing long term customer value to operators and passengers worldwide.
About Bombardier Transportation
Bombardier Transportation is a global leader in rail technology and offers the broadest portfolio in the industry. It covers the full spectrum of rail solutions, ranging from trains to sub-systems and signalling. The company also provides complete transport systems, e-mobility technology and maintenance services. As an innovation driver, Bombardier Transportation continuously breaks new ground in sustainable mobility. It provides integrated solutions that create substantial benefits for operators, passengers and the environment. Headquartered in Berlin, Germany, Bombardier Transportation employs around 39,400 people and its products and services operate in over 60 countries.