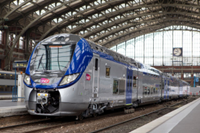 The Regio 2N trains, based on the BOMBARDIER OMNEO platform, have been entirely designed and produced at Bombardier's Crespin site in France
A successful entry into service: the Regio 2N fleet has travelled over 6.5 million km
Rail technology leader Bombardier Transportation today delivered the 100th Regio 2N train to Xavier Bertrand, President of the Hauts-de-France Region and Jacky Lion, Regional Director, SNCF Proximités, at a ceremony held in Crespin, where the trains are designed and built.
"This is a historical milestone for Bombardier", said Laurent Bouyer, President of Bombardier Transportation France. "The Regio 2N project is a flagship project for our Crespin site, for the French rail industry and for the Hauts-de-France Region. The success of this fleet is primarily due to the flexibility of the OMNEO platform, which offers a high capacity solution to meet the needs of urban, regional, as well as intercity services for the Regions."
Mandated by the various French regions, France's national state-owned railway company, SNCF, organised a tender for high capacity double deck regional trains in 2008. In 2010, Bombardier and SNCF signed a contract for the production of up to 860 trains. Today, the regions have ordered a total of 213 OMNEO trains: Nouvelle Aquitaine (24), Bretagne (21), Centre-Val de Loire (14), Hauts-de-France (25), Île-de-France (42), Occitanie (18), Pays de la Loire (13), Auvergne-Rhône-Alpes (40), Provence-Alpes-Côte d'Azur (16). Following the current state of orders, the last train will be delivered in 2019.
The OMNEO platform is a family of extra-large, double deck trains which brings capacity, comfort and accessibility to urban, regional and intercity services. Bombardier's engineers developed a new concept that optimizes space and seating to increase the passenger's travel experience. It features easy access provided by two large doors at platform level as well as wide corridors and gangways that make it easy for passengers to move about the train. The passenger areas are equipped with power outlets, luggage racks, information screens, and video surveillance cameras.
For long intercity journeys, the Premium version of the OMNEO train offers an operating speed of 200km/h and exceptional comfort that meets the needs of long distance travellers.
About Bombardier Transportation
Bombardier Transportation is a global leader in rail technology and offers the broadest portfolio in the industry. It covers the full spectrum of rail solutions, ranging from trains to sub-systems and signalling. The company also provides complete transport systems, e-mobility technology and maintenance services. As an innovation driver, Bombardier Transportation continuously breaks new ground in sustainable mobility. It provides integrated solutions that create substantial benefits for operators, passengers and the environment. Headquartered in Berlin, Germany, Bombardier Transportation employs around 39,400 people and its products and services operate in over 60 countries.