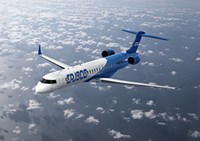 Bombardier Commercial Aircraft Asset Management announced today the successful remarketing of 13 previously owned CRJ900 aircraft to Regional One. Two of the aircraft were owned by Bombardier and eleven were remarketed on behalf of a third party. Eight of the 13 aircraft were delivered in 2016 and one in 2017. The remaining four are scheduled for delivery later this year.
The sale of the aircraft to Regional One also provides the opportunity for Regional One to acquire additional previously owned aircraft, under certain terms and conditions, made available by Bombardier Commercial Aircraft Asset Management and further develops the relationship between the parties.
Based in Miami, Regional One is a purchaser, lessor and seller of aircraft, aircraft parts, engines, engine parts and other related support items for regional/commuter aircraft worldwide.
About CRJ Series Aircraft
Every 10 seconds a CRJ Series regional jet takes off somewhere in the world. The CRJ Series family of aircraft has transported almost 1.6 billion passengers to become the world's most successful regional jet program -- linking people and communities like no other. The CRJ Series regional jets have revolutionized aviation with their proven efficiency, reliability and profitability. The CRJ Series aircraft family includes over 100 owners and operators in approximately 40 countries and the worldwide fleet has logged over 43.5 million flight hours.
Bombardier has booked a total of 1,902 firm orders for CRJ Series aircraft, including 428 CRJ900 aircraft.
About Bombardier
Bombardier is the world's leading manufacturer of both planes and trains. Looking far ahead while delivering today, Bombardier is evolving mobility worldwide by answering the call for more efficient, sustainable and enjoyable transportation everywhere. Our vehicles, services and, most of all, our employees are what make us a global leader in transportation.
Bombardier is headquartered in Montréal, Canada. Our shares are traded on the Toronto Stock Exchange (BBD) and we are listed on the Dow Jones Sustainability North America Index. In the fiscal year ended December 31, 2015, we posted revenues of $18.2 billion.