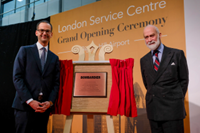 New maintenance facility further strengthens Bombardier's customer support network and creates employment opportunities in the London area.
Strategically located service centre offers customers full breadth of Bombardier's support network closer to their base of operations.
Bombardier Business Aircraft is pleased to celebrate the grand opening of its new service centre located at London Biggin Hill Airport, UK. With an installed base of more than 600 Bombardier business jets in Europe, the new service centre in Biggin Hill is well positioned to provide world-class heavy maintenance and support services to Bombardier customers and operators in the region. The inauguration was held in the presence of His Royal Highness Prince Michael of Kent, patron of the British Business and General Aviation Association (BBGA), as well as other distinguished guests.
The new 4,790 sq. metre (51,541 sq. feet) facility received certification from the Civil Aviation Authority of the United Kingdom for maintenance of Learjet 70 and Learjet 75, Challenger 300, Challenger 350, Challenger 600 series, Global 5000 and Global 6000 aircraft in March 2017. It is fully equipped to perform scheduled and unscheduled maintenance, as well as modifications and avionics installations for Bombardier Learjet, Challenger and Global aircraft.
"Biggin Hill is a strategic location for business aviation operators and we are committed to our long-term relationship with London Biggin Hill Airport to develop a world-class aviation hub serving as a catalyst for business aviation growth in the region," said Jean-Christophe Gallagher, Vice President and General Manager, Customer Experience, Bombardier Business Aircraft. "We also are extremely proud to inaugurate our new facility during Biggin Hill Airport's 100-year anniversary celebration, making this an even more memorable milestone for Bombardier."
Located at one of the highest altitudes within London's M25 ring road, the airport on Biggin Hill is so well positioned that it was chosen as the strategic base for the Royal Air Force (RAF) during World War II. Today, Biggin Hill Airport's proximity to London, a main business aviation destination for Europe, has transformed the airfield into a central hub for charter operations in the industry.
"We are delighted to celebrate this important milestone and launch this new facility with Bombardier Business Aircraft," said Andrew Walters, Chairman of London Biggin Hill Airport. "We are confident that this collaboration will benefit Bombardier Business Aircraft customers in the UK and in Europe, while growing the employment opportunities in the region."
"Bombardier is active in 40 countries across the world, including the United Kingdom," said His Royal Highness Prince Michael of Kent. "As the leading manufacturer of both planes and trains, their presence at Biggin Hill is hugely welcome and will contribute significantly to the advancement of the planned Strategic Outer London Development Centre concept."
As the Bombardier Business Aircraft fleet continues to grow, so does its award-winning service centre network with additional Customer Response Team trucks in the U.S., additional line stations in Europe and new service centre facilities in Tianjin, China and now in Biggin Hill, London. The network is equipped to support Learjet, Challenger and Global business aircraft and is connected to Bombardier Business Aircraft's 24/7 Customer Response Centre and world-class Customer Support Team.
About Biggin Hill Airport
London Biggin Hill Airport (EGKB/BQH) is located just 12 miles from central London and 9 miles from the financial district. It offers award-winning VIP handling, extensive hangarage, support and maintenance services for all ranges of business jets.
With a designated UK Port of Entry, no runway slots and an exclusive six-minute helicopter transfer service to and from the NetJets London Heliport, Biggin Hill offers customers the fastest touchdown to downtown of any London airport.
About Bombardier
Bombardier is the world's leading manufacturer of both planes and trains. Looking far ahead while delivering today, Bombardier is evolving mobility worldwide by answering the call for more efficient, sustainable and enjoyable transportation everywhere. Our vehicles, services and, most of all, our employees are what make us a global leader in transportation.
Bombardier is headquartered in Montréal, Canada. Our shares are traded on the Toronto Stock Exchange (BBD) and we are listed on the Dow Jones Sustainability North America Index. In the fiscal year ended December 31, 2016, we posted revenues of $16.3 billion.