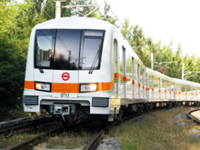 Bombardier's joint venture to perform 10-year overhaul work for 498 metro cars operating on the world's longest metro network
BOMBARDIER ORBITA and Maximo systems to reduce maintenance time and improve fleet reliability and safety
Rail technology leader Bombardier Transportation announced today that its Chinese joint venture, Shentong Bombardier (Shanghai) Rail Transit Vehicle Maintenance Co., Ltd. (SHBRT), has been awarded two contracts with Shanghai Shentong Metro Group Co., Ltd. to provide 10-year overhaul service for 498 metro cars operating on Shanghai Metro's lines 7 and 9. Together, the two contracts are valued at approximately 1.1 billion Chinese RMBs (158 million US, 145 million euro).
Bombardier owns 50% of the shares in SHBRT which was established in December 2012 and is jointly controlled by Bombardier and Shanghai Shentong Metro Group Co., Ltd.
Jianwei Zhang, President of Bombardier China said, "Shanghai operates the longest metro network in the world and we are very proud to be chosen to support this megacity's expanding mobility by providing our broadest portfolio and top quality products, services and solutions. The customer's choice is a strong testament of Bombardier's position as a full solution provider across the entire value chain in China".
Under the contracts, Bombardier's joint venture will overhaul Shanghai Metro's fleet of 498 metro cars, which were built by another Bombardier Chinese Joint Venture Changchun Bombardier Railway Vehicles Company Ltd. (CBRC). To perform the overhauls, SHBRT will adopt advanced methods and tools, including the BOMBARDIER ORBITA advanced train monitoring system and the Maximo Asset Configuration Manager application. Each is a highly innovative and powerful predictive asset management and vehicle maintenance tool that will improve the reliability and availability of the metro cars on Shanghai Metro's lines 7 and 9.
Bombardier has been Shanghai's strategic mobility partner since 1999. Since then, Bombardier's joint ventures (CBRC, BCP, PBTS and SHBRT) have won orders to provide Shanghai a total of more than 1,600 metro cars, together with the propulsion systems and the maintenance. The SHBRT joint venture has also provided extensive maintenance services to Shanghai Metro with two fleet overhaul contracts as well as a ten-year services agreement. In 2015, Bombardier's PBTS joint venture also won a contract to provide the megacity's first automated people mover system.
Bombardier Transportation in China is the full solution provider across the entire value chain. From vehicles and propulsion to services and design, Bombardier Transportation in China has six joint ventures, seven wholly foreign-owned enterprises, and more than 6,000 employees. Together, the joint ventures have delivered more than 3,500 high speed railway passenger cars, 580 electric locomotives and over 2,000 metro cars to China's growing urban mass transit markets.
About Bombardier Transportation
Bombardier Transportation is a global leader in rail technology and offers the broadest portfolio in the industry. It covers the full spectrum of rail solutions, ranging from trains to sub-systems and signalling. The company also provides complete transport systems, e-mobility technology and maintenance services. As an innovation driver, Bombardier Transportation continuously breaks new ground in sustainable mobility. It provides integrated solutions that create substantial benefits for operators, passengers and the environment. Headquartered in Berlin, Germany, Bombardier Transportation employs around 37,150 people and its products and services operate in over 60 countries.