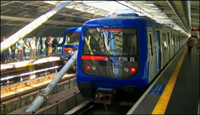 First rail control project in Ecuador for Quito's new metro line to alleviate congestion
Brazil, Chile and Peru are also part of Bombardier's growing signalling footprint
Rail technology leader Bombardier Transportation has started the implementation of its first project for rail control in Ecuador on Quito Metro Line 1, further strengthening its presence in South America. Due to the capital's high demand for better transport options with its existing road-only transit system at full capacity, the new underground line is forecast to carry around 400,000 passengers per day and is expected to reduce congestion considerably when it opens in 2019.
Peter Cedervall, President, Rail Control Solutions Division, Bombardier Transportation, commented, "The new Quito Metro, equipped with our advanced rail control technology, represents an important opportunity to ease the city's transport challenges by greatly shortening travel time from the north to south to 34 minutes, compared to up to 90 by road. We are excited to be working with our partners on this ground-breaking transportation solution, offering a new layer of travel options for passengers."
The unique geography of Ecuador's second most populous city spans 45 km from north to south but just 5 km at its widest part. This forces all its traffic routes to be linear and with only road-based transport options available, leads to congestion during peak hours. The signalling project has been contracted by the Consortium Línea 1, comprised of civil work companies Acciona and Odebrecht, responsible for the construction of the line. It involves the delivery of a BOMBARDIER CITYFLO 350 mass transit solution for the 22 km double track including a BOMBARDIER EBI Screen central traffic control system and EBI Cab on-board automatic train protection and operation equipment for 18 trains. Designed primarily for metros, the CITYFLO 350 semi-automatic train operation system increases traffic capacity and safety and is in operation throughout the world.
Continuing to expand Bombardier's rail control footprint across South America, this latest project builds on the success of the first line of the Lima Metro in Peru, operating with the CITYFLO 350 solution since 2011 and planned for extension. In addition, the CITYFLO 650 communications-based train control solution is in delivery to maximise capacity on São Paulo Metro Line 15 (Tiradentes Monorail) and Line 5 in Brazil. On Line 5, the system will enable trains to safely circulate with a short 75-second headway.
For mainline, Bombardier is providing its INTERFLO 250 solution for the first two European Rail Traffic Management System (ERTMS) projects in South America, to improve passenger services and safety on the Rancagua regional rail corridor in Chile and the SuperVia commuter service in Rio de Janeiro, Brazil. Spanning all rail operations, the INTERFLO 150 industrial application has been delivered at Chile's El Teniente Mine.
About Bombardier Transportation
Bombardier Transportation is a global leader in rail technology and offers the broadest portfolio in the industry. It covers the full spectrum of rail solutions, ranging from trains to sub-systems and signalling. The company also provides complete transport systems, e-mobility technology and maintenance services. As an innovation driver, Bombardier Transportation continuously breaks new ground in sustainable mobility. It provides integrated solutions that create substantial benefits for operators, passengers and the environment. Headquartered in Berlin, Germany, Bombardier Transportation employs around 39,400 people and its products and services operate in over 60 countries.