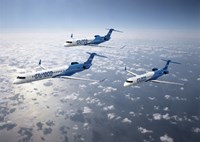 Bombardier Commercial Aircraft announced today that it has renewed its Authorized Service Facility (ASF) agreement with Taikoo (Shandong) Aircraft Engineering Company Limited ("STAECO") of Jinan, China for an additional three-year term. In addition to providing maintenance services for CRJ Series aircraft as done under the original agreement, STAECO will now also provide maintenance services for Q400 turboprops.
Under the agreement, STAECO is designated as an authorized service provider for base and other maintenance on all Bombardier CRJ Series and Q400 aircraft, including aircraft modifications, repainting, and avionics and cockpit upgrades.
"STAECO has been serving operators of CRJ Series aircraft for over 10 years with a variety of maintenance solutions, and we are pleased to add the Q400 turboprops to our portfolio," said Wang Chao, President, STAECO. "The renewal of our relationship with Bombardier as part of its growing customer support network, permits us to continue serving our customers' needs together."
"STAECO has an excellent reputation for providing reliable and professional support to operators of Bombardier CRJ aircraft, and I am confident that this level of service will continue as the company extends its expertise to cover Q400 turboprops," said Todd Young, Vice President and General Manager, Customer Services, Bombardier Commercial Aircraft. "We're delighted with the renewal of our contract with STAECO as an Authorized Service Facility serving our customers close to their base of operations."
The fleet of Bombardier commercial aircraft in the is steadily growing with 365 Q Series turboprops, CRJ regional jets and C Series airliners now ordered by, or in service with approximately 50 customers and operators in the region.
Bombardier Commercial Aircraft's Customer Services network in the Asia Pacific region includes Regional Support Offices in Shanghai, Tokyo, Mumbai, Singapore and Sydney, as well as a Parts Services Depots in Narita, Beijing, Hong Kong, Singapore and Sydney. GMR Aero Technic in Hyderabad, India and Hawker Pacific in Cairns, Australia, also operate Authorized Service Facilities that provide valued support to keep our customers flying competitively in the region.
About Bombardier
Bombardier is the world's leading manufacturer of both planes and trains. Looking far ahead while delivering today, Bombardier is evolving mobility worldwide by answering the call for more efficient, sustainable and enjoyable transportation everywhere. Our vehicles, services and, most of all, our employees are what make us a global leader in transportation.
Bombardier is headquartered in Montréal, Canada. Our shares are traded on the Toronto Stock Exchange (BBD) and we are listed on the Dow Jones Sustainability North America Index. In the fiscal year ended December 31, 2015, we posted revenues of $18.2 billion.