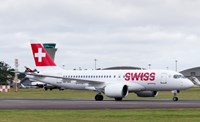 CS100 aircraft enters service as C Series program gains 127 orders in the first half of 2016 to increase total firm orders to 370
CS300 aircraft on track for first delivery to airBaltic scheduled for the fourth quarter of 2016
Bombardier Commercial Aircraft today congratulated launch operator Swiss International Air Lines (SWISS) on the successful entry-into-service of the CS100 aircraft. The maiden commercial flight of the CS100 aircraft has departed Zurich for Paris Charles de Gaulle.
"We salute SWISS on the CS100 aircraft's successful entry-into-service and thank the airline for its outstanding support to the C Series aircraft program," said Fred Cromer, President, Bombardier Commercial Aircraft. "We also congratulate all the employees and suppliers who have worked tirelessly to bring us to this great milestone. It is an outstanding achievement and continues to build the momentum for the C Series aircraft program."
"The launch of revenue service with the CS100 aircraft is a fitting culmination to this year's Farnborough Airshow, and follows Bombardier Commercial Aircraft's strong sales performance in the first half of 2016 during which we obtained firm orders for 127 C Series, 19 CRJ and 15 Q400 aircraft –including orders from Porter Airlines and All Nippon Airways each of which ordered an additional three Q400 aircraft as disclosed during the airshow. The capture of these 161 firm orders in six months signals Bombardier's intent to re-assert itself as a strong leader in commercial aviation."
As announced during the airshow, Transport Canada has awarded type certification to the CS300 aircraft and the delivery of this larger model to airBaltic is scheduled for the fourth quarter of 2016. To maximize aircraft utilization and minimize maintenance costs, the airline has joined SWISS to become the second customer enrolled in Bombardier's Smart Parts program for the C Series aircraft. The Smart Parts program provides comprehensive component maintenance, repair and overhaul services, access to a strategically located spare parts exchange pool, and on-site inventories based at the airlines' hubs.
"During the show, we connected with senior airline and aviation industry executives from around the world and are very encouraged by the feedback we are getting on our new C Series aircraft product positioning that urges airlines to put aside decades-old aircraft design in favour of an all-new, technically-advanced aircraft aimed specifically at the single-aisle, 100- to 150-seat market. We're giving airlines the freedom to match demand with a right-sized aircraft that provides the opportunity to make more profit," added Mr. Cromer. "The C Series aircraft has the state-of-the-art design, materials, technology, performance and passenger amenities, as well as economics that set it well apart from other aircraft in its class."
Also at Farnborough, Bombardier said it will soon begin validations of the C Series aircraft's capability to safely conduct steep (5.5º) approaches to London's close-to-downtown City Airport and land and stop safely on its 4,948-foot (1,508-metre) runway.
Using virtual reality technology, Bombardier also presented its new CRJ Series aircraft interior at the airshow. Participants had a preview of the fresh, contemporary cabin design that includes a more open entrance area, spacious lavatory and greater on-board storage capacity. Combined, these new features deliver an enhanced passenger experience and more value for airlines.
Bombardier also launched the Q400 Multi-Role aircraft to meet the diverse and demanding needs of customers. The fully certified Q400 Multi-Role aircraft can be tailored for firefighting, cargo transport, passenger transport, disaster relief and medical evacuation. The aircraft is rapidly reconfigurable and systems can be swapped in and out easily to meet operational and network requirements.
Bombardier had a highly visible presence in the aircraft static display with a flybe Q400 turboprop, a CRJ1000 regional jet from Air Nostrum, and CS100 flight test vehicle five (FTV5) in SWISS colours. FTV5 also conducted three demonstration flights on July 10 hosting media, C Series aircraft program suppliers and government representatives. SWISS' first delivered CS100 aircraft also appeared at Farnborough and opened the flying display on July 11 when it departed for Zurich to launch revenue service.
About C Series Aircraft
The C Series is the only aircraft optimized for the 100- to 150-seat market segment, which drives the aircraft's phenomenal economic proposition and performance, opening up new opportunities for single-aisle aircraft operation.
Comprised of the CS100 and the larger CS300 aircraft, the C Series family represents the fusion of performance and technology. The result is aircraft that deliver unmatched performance and economics in the 100- to 150-seat market segment and an 18 per cent lower cost per passenger, making them the ideal candidates to complement larger single-aisle aircraft. Airlines can now operate routes that were previously not profitable or even possible. An improvement in range in excess of 20 per cent out of hot-and-high airports such as Denver, Mexico City or Lhasa has been confirmed.
Bombardier has created a new standard in cabin design and flexibility to ensure an unrivalled passenger experience. The aircraft's larger seats, overhead bins and windows deliver a widebody feel that offers passengers unparalleled comfort in a single-aisle cabin.
The CS100 and the CS300 aircraft have over 99 per cent parts commonality as well as the same pilot type rating. The groundbreaking Pratt & Whitney PurePower® PW1500G engine, combined with the aircraft's advanced aerodynamics, delivers reduced fuel burn, noise, and emissions – making the
C Series the most community-friendly aircraft.
About Bombardier
Bombardier is the world's leading manufacturer of both planes and trains. Looking far ahead while delivering today, Bombardier is evolving mobility worldwide by answering the call for more efficient, sustainable and enjoyable transportation everywhere. Our vehicles, services and, most of all, our employees are what make us a global leader in transportation.
Bombardier is headquartered in Montréal, Canada. Our shares are traded on the Toronto Stock Exchange (BBD) and we are listed on the Dow Jones Sustainability North America Index. In the fiscal year ended December 31, 2015, we posted revenues of $18.2 billion.