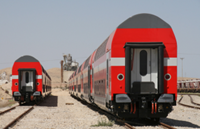 Fifth order will increase Israel Railways' fleet of Bombardier-built double-deck coaches to 462
Greater comfort, increased capacity and more frequent service for Israel's public rail transport
Rail technology leader Bombardier Transportation announced today that it has signed a contract to provide 33 additional BOMBARDIER TWINDEXX Vario double-deck coaches to Israel Railways (ISR). This call-off is part of a framework agreement signed in October 2010 and is valued at approximately 56 million euro ($61 million US). Delivery of the new coaches is scheduled to be completed by February 2019.
Dr. Amir Itskovich, Head of Project Portfolio & Deputy RoS Engineering and Development, Israel Railways, said, "Israel Railways is coping with a sustainable increase in ridership and capacity demand. We are pleased to have the opportunity to receive additional proven and reliable rolling stock from Bombardier in order to further increase the capacity offering to our passengers. We are looking forward to benefitting from Bombardier's tradition of on-time and on-quality delivery."
Yossi Daskal, Chief Country Representative Israel, Bombardier Transportation, said, "We are delighted to have received yet another strong vote of confidence from our partners at ISR and are proud to be playing such a major role in the ongoing modernization and electrification of Israel's rail network. Together with ISR we are driven by an equally powerful vision of transforming this ecosystem's surroundings and meeting the needs of its continuously growing public transport market."
The new coaches are an improved version of those currently in operation with ISR and will provide an enhanced travel experience. They will be equipped with carpeting on both levels, a state-of-the-art passenger information system, powerful air-conditioning, bogies with secondary air-suspension, and a safety system that allows departure only after passenger doors have fully closed. Hauled by the new BOMBARDIER TRAXX AC electric locomotives ordered in 2015, each eight-car train features seating capacity for 1,000 passengers.
The popular trainsets, based on a proven platform concept, are in operation across Europe and are compliant with all current safety, comfort and efficiency standards. They will represent great strides in helping alleviate congestion in Israel.
As a full solution provider, Bombardier Transportation operates a service depot in Haifa where existing 293 double-deck coaches are being upgraded for a speed of 160 km/h and for electric traction. This month, a Bombardier team began qualifying local staff to carry out the final assembly of the eight, recently-delivered coaches at an ISR shop floor in Be'er Sheva, part of a call-off from March 2016.
About Bombardier Transportation
Bombardier Transportation is a global leader in rail technology and offers the broadest portfolio in the industry. It covers the full spectrum of rail solutions, ranging from trains to sub-systems and signaling. The company also provides complete transport systems, e-mobility technology and maintenance services. As an innovation driver, Bombardier Transportation continuously breaks new ground in sustainable mobility. It provides integrated solutions that create substantial benefits for operators, passengers and the environment. Headquartered in Berlin, Germany, Bombardier Transportation employs around 37,150 people and its products and services operate in over 60 countries.