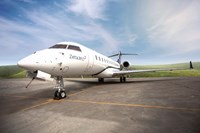 With the Global 6000 aircraft's exceptional long-range performance, today's announcement confirms Zetta Jet as a leading private jet operator in Asia
Aircraft features Bombardier's new cabin management system for Global 5000 and Global 6000 jets
Passengers will enjoy world's fastest Ka-band high-speed in-flight Wi-Fi service
An additional Bombardier Global 6000 jet has joined the fleet of fast-growing, Singapore-based charter operator, Zetta Jet. The delivery ceremony took place at Bombardier Business Aircraft's Global Completion Centre in Montréal. This latest Global aircraft to join Zetta Jet's all Global fleet is slated to operate out of Zetta Jet's North America hub in Los Angeles. The first Bombardier jet to feature the latest Cabin Management System (CMS) and the world's fastest Ka-band high-speed in-flight Internet connectivity, Zetta Jet passengers will enjoy a truly modern office environment anywhere they fly. The Global 6000 business jet cabin is specifically designed to provide a highly productive working environment, a key factor in making these aircraft a leading choice for operators worldwide.
"Zetta Jet is thrilled to welcome our next Global 6000 business jet to our fleet, enhancing our offering of unparalleled luxury, performance and personalized service to our elite clientele. This aircraft has consistently demonstrated its winning combination of cabin comfort, high-speed range and proven reliability, helping us deliver our promise of providing the ultimate private jet experience to the world's most exclusive travellers," said Geoffery Cassidy, Managing Director, Zetta Jet. "With the latest in CMS and connectivity technology, this aircraft allows our customers to bring their office into the sky, helping them make the most of their time onboard."
Designed to be ultra-fast, flexible and intuitive, Bombardier Business Aircraft's new CMS's robust design is based on a dependable fiber optic architecture for maximum reliability. A testimony to Bombardier's dedication to provide the best customer experience, Bombardier took the highly capable Rockwell Collins VenueTM system and customized it with a unique interface for enhanced flexibility. It provides an abundance of bandwidth, which can readily accommodate the latest consumer technologies and support future software upgrades easily and cost-effectively. The dedicated media bay with multiple HDMI and USB ports provides flexibility to connect multiple consumer electronic devices today and in the future, adapting the Global aircraft cabin to customers' needs. The new intuitive user interface features first-class design details that complements the Global aircraft's luxurious interior. The system allows passengers to swiftly interact with the cabin environment, providing immediate access to work or entertainment content, flight maps or cabin settings. The key cabin controls are accessible in a single click to effortlessly navigate the system's new intuitive user interface. On Zetta Jet's latest Global aircraft, the CMS is paired with the fastest Ka-band high-speed in-flight Internet connectivity system available worldwide*. Users can seamlessly stream content straight to high-definition monitors just like at home.
"We are delighted that our Global family of aircraft continues to support Zetta Jet's industry-leading value proposition to its customers and, in turn, the company's remarkable rate of growth," said Peter Likoray, Senior Vice President, Sales and Marketing, Bombardier Business Aircraft. "The Bombardier Global 6000 aircraft, with its benchmark-setting combination of comfort, range and performance, is designed to meet the needs of the most discerning customers, and with our latest CMS and industry-leading Ka-band high-speed internet solution, passengers enjoy seamless connectivity throughout their travels."
Global 6000 aircraft
The Global 6000 business jet offers more cabin volume and more floor space than any other aircraft in its class. No other business jet in the ultra-long-range segment today matches the high-speed range capability and mission flexibility delivered by this aircraft. Offering the ultimate in cabin comfort, this impressive jet can link Moscow to Los Angeles non-stop with eight passengers and four crew**. It can travel 6,000 NM (11,112 km) at M 0.85 with up to eight passengers**.
About Zetta Jet
The world's first truly personalized private airline, Zetta Jet promises to deliver the ultimate in bespoke luxury experiences to a discerning clientele with its unique experience that combines the dedicated Asian service philosophy with the flexibility and 'can-do' spirit of the U.S., adorned with the glamour of Europe's enduring chic on its Bombardier Global fleet with ultra-long range intercontinental capabilities across the Pacific Rim.
Headquartered in Singapore, Zetta Jet is a FAA certificated air carrier and the first only part 135 operator authorized to conduct Polar flights, enabling Zetta Jet to optimize routes without limitation. With strong operational capabilities and established offices both in Los Angeles and Singapore, Zetta Jet also leverages an established network of sales and support offices in New York, London, San José, Harbin and Singapore
* Coverage excludes North and South Poles.
**Under certain operating conditions.
About Bombardier
Bombardier is the world's leading manufacturer of both planes and trains. Looking far ahead while delivering today, Bombardier is evolving mobility worldwide by answering the call for more efficient, sustainable and enjoyable transportation everywhere. Our vehicles, services and, most of all, our employees are what make us a global leader in transportation.
Bombardier is headquartered in Montréal, Canada. Our shares are traded on the Toronto Stock Exchange (BBD) and we are listed on the Dow Jones Sustainability North America Index. In the fiscal year ended December 31, 2015, we posted revenues of $18.2 billion.