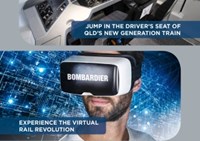 Rail technology leader Bombardier Transportation is showcasing its latest technologies during Australia's largest rail exhibition and conference this month. The bi-annual AusRail PLUS industry event is being held in Brisbane, Queensland between November 21 - 23.
"Together with our customers and industry partners, our focus is on 'what's next?' as we challenge ourselves to deliver the next level of world class public transport systems," said Andrew Dudgeon, Managing Director of Bombardier Transportation Australia.
Bombardier's presence at AusRail PLUS will focus on its largest rail project for the State of Queensland, the New Generation Rollingstock (NGR), as well as the BOMBARDIER FLEXITY 2, a 100% low-floor tram for the Gold Coast Light Rail network, and live wheel detection technology demonstrations. In addition, visitors can experience a 360-degree immersive virtual reality journey, featuring Bombardier's latest mobility solutions such as the FLEXITY 2, BOMBARDIER MOVIA Maxx high-capacity metro, the BOMBARDIER CITYFLO 650 CBTC rail control service solution, and the BOMBARDIER INNOVIA Monorail 300 system.
Bombardier will also speak and present its thought leadership on topics ranging from regional and light rail supply and integration, to digitalisation, world class fleet performance optimisation, artificial intelligence, high-capacity signalling, and train-to-wayside system integration.
At the stand, visitors will have the opportunity to climb into the driver's seat of Queensland's New Generation Rollingstock mock-up and learn more about Queensland's largest rail public-private partnership (PPP) project. The Virtual Reality Rail Hub will keep visitors fully immersed in some of Bombardier's leading global and local technology solutions. And for the big kid in all of us, a fully operated 3D LEGO® model of the Gold Coast Light Rail system will keep school students entertained at the Bombardier stand to coincide with Rail Careers Week this year.
Visit Bombardier at AusRail PLUS at stand #435, Brisbane Convention & Exhibition Centre between November 21 – 23, 2017.
About Bombardier
Bombardier is the world's leading manufacturer of both planes and trains. Looking far ahead while delivering today, Bombardier is evolving mobility worldwide by answering the call for more efficient, sustainable and enjoyable transportation everywhere. Our vehicles, services and, most of all, our employees are what make us a global leader in transportation.
Bombardier is headquartered in Montréal, Canada. Our shares are traded on the Toronto Stock Exchange (BBD) and we are listed on the Dow Jones Sustainability North America Index. In the fiscal year ended December 31, 2015, we posted revenues of $18.2 billion.