The Bossard Group is strengthening its market position in France as a supplier of high-quality fastening solutions. It is taking over an area of activity from Titanox that generates annual sales of EUR 6 million. Bossard is already present on the French market at four sites with a total of 130 employees. This partial acquisition complements the product range with fastening solutions for application in demanding industries. The parties have agreed to keep the acquisition price confidential.
The company Titanox has decades of experience in fastening technology. Since 1975, it has focused on the distribution of fastening solutions and holds a strong position in the French market. Bossard is taking over Titanox's division for self-clinching fasteners, which make the connection between ultra-thin and ultra-light metals possible. Self-clinching fastening solutions are used in many different industries, such as electronics, telecommunications, railway and automotive, as well as medical engineering and aerospace.
This orientation toward demanding industries corresponds with the Bossard Group's strategy of focusing increasingly on high-quality engineered and branded products. Various acquisitions over the last few years have enabled the company to implement this strategy. With this latest acquisition, Bossard not only consolidates its market position in a national economy that is characterized by a broadly diversified industrial sector, but also strengthens its longstanding business relationship with PennEngineering (PEM). PEM is the world's leading manufacturer of self-clinching fasteners. With this acquisition, Bossard will become PEM's exclusive distributor in the French market.
About Bossard AG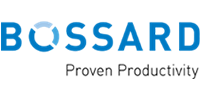 We live in a fascinating world. We're surrounded by great products. They're all fastened together with - screws, nuts and bolts.
We at Bossard and KVT-Fastening, we love to look at what you don't see. And what you don't see is what we call the hidden potentials of fastening. We help you surface this potential so you can boost your productivity.
Every solution we create is to enable you to achieve higher productivity.
It is about helping you to choose the right fastener for the right application
It is about supporting your new product design with our technical expertise
It is about enabling a lean process in C-parts management
The company headquartered in Zug, Switzerland, is among the market leaders in fastening technology in Europe, the Americas and Asia-Pacific. Bossard is a global network of companies with more than 1,800 employees in over 60 locations and carefully selected international partners in all regions of the world. Our drive for excellence and innovation has led to steady growth and market success for more than 180 years.