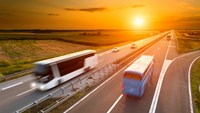 Hotel room? Check. Flight? Check. Taxi to the airport? Check. What about getting from the airport to your hotel in the city centre? An airport transfer bus could be the best option. Chances are, if you're an inbound or infrequent traveller, you will wonder where to search and book this last leg. Imagine if that was taken care of through your travel retailer, removing all the uncertainty and stress, just as you would book a flight.
This scenario can now become a reality. With market liberalisation and growing competition, the bus is showing itself more and more to be a promising travel alternative. Now, it's time to grow at full speed.
In a bid to make this travel option much more attractive, accessible and convenient, Amadeus is today announcing new partnerships with Distribusion and Betterez.
Distribusion brings over 300 airport bus transfer & intercity bus operators in 2500 destinations to Amadeus' travel seller network. A single gateway to all this content means travel sellers can easily broaden their offer, attract new types of customers and drive revenues, all while forgetting about costly one-to-one setup and commercial relationships. With content, search, booking, payment, ticketing and settlement capabilities covered, travel agencies can focus on adapting this new offer to travellers, and in turn, bus companies will be more visible to new customers in new channels, ultimately driving sales growth. Initially, Amadeus travel sellers in central, eastern and southern Europe will be able to access Distribusion bus content with more across the world expected to join soon.
But Amadeus' bet on the bus market doesn't end there. Betterez now brings an innovative, end-to-end sales, operation and back-office platform for bus operators. The platform allows them to better sell, manage and promote their offer both in their direct channels, but also in new ones, including Amadeus' travel seller network. Betterez' expertise in the market can help them drive customer loyalty, efficiency and revenue. Regular investment in adopting or replacing new technology will be a thing of the past thanks to its fully scalable and cloud-based platform.
"Travelling by bus is an attractive choice for many, but could be for many more. Bus operators now have a complete package to unlock growth and make a significant footprint in the global travel industry. Our two partnerships with Betterez and Distribution could not come at a better moment, when new entrants and market dynamics are pushing towards improving the overall offer and experience" said Antoine de Kerviler, Head of Rail & Ground Travel at Amadeus. "Imagine booking a convenient airport bus transfer on top of your flight and a weekend getaway by rail – all on the same itinerary through your travel retailer – this is door-to-door travel at its best."
"Betterez is consolidating an innovative proposition in the bus market by helping operators optimise their sales and distribution channels, operations, inventory, pricing, scanning, back office business requirements, and more. We aim to help bus companies compete and grow by selling more and selling more easily" said Tal Shalit Founder & CEO of Betterez. "Together with Amadeus' technology and global reach, Betterez and Amadeus make for an ideal partnership to help the bus market reach the next level of growth and innovation."
Julian Hauck, Founder & CEO of Distribusion said "Travel sellers are paying more attention to bus travel to continue enriching their offer to travellers, and have been longing to add this kind of content in a simple, standardised and effective way for some time. The combination of our market leading bus content with Amadeus' travel seller network will open the door to new travellers. We're really looking forward to this new phase with Amadeus."
In addition to the business agreement with Betterez, last month, Amadeus announced a strategic venture investment in the start-up arena with the intention to drive innovation in bus travel. Betterez' agile and modern platform makes it the ideal match for this investment to effectively serve this segment and improve the ground travel experience.
About Amadeus
Amadeus provides the technology which keeps the travel sector moving - from initial search to making a booking, from pricing to ticketing, from managing reservations to managing check-in and departure processes.
Our products and solutions help to improve the business performance of our customers; travel agencies, corporations, airlines, ground handlers, hotels, railways, car rental companies, airports, cruise lines and ferry operators.