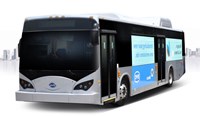 A £660m deal with the potential to more than triple in the next 10 years was signed in London by two of the world's leading bus manufacturers.
BYD – the world's biggest producer of pure electric buses – is to join forces with British bus builder Alexander Dennis Limited (ADL) in a bid to transform the transport landscape in the UK, and elsewhere, with the introduction of revolutionary emission-free buses.
A joint venture agreement was signed today on the occasion of the State visit to the UK by President Xi Jinping of China. It envisages an initial contract between the two innovative bus giants to build 200, 12-metre single deck buses per annum, representing turnover of around £660m over the next 10 years.
However, no sooner was the ink dry on the agreement than both companies confirmed that they are already in advanced discussions with a view to extending their alliance to include double deck buses, a sector in which ADL is a renowned world leader. When this happens there is potential to triple the scale of the current deal to almost £2billion.
The BYD-ADL collaboration deal was signed today by Wang Chuan-fu, Founding Chairman of BYD, and Colin Robertson, Chief Executive of ADL, with both men confirming that their ultimate objective is to transform global transport systems to pure electric, emission-free buses.
Speaking at the signing ceremony, BYD's Mr Wang said: "Working with top industry partners such as ADL will enable us to speed up acceptance of our vision for fully-electrified public transport systems that can make a major contribution towards the clean air challenges facing cities around the world. ADL's know-how and local market experience in the UK, combined with their global expertise in the double deck sector and our class-leading knowledge of electric technology, creates the perfect platform to jointly develop a range of cost effective, emission-free vehicles to suit every requirement."
ADL's Colin Robertson added: "This is the start of an exciting journey with enormous potential and we are delighted to be working with BYD. Their expertise in electric vehicle technology is second-to-none, while we have a global reputation for robust, reliable, high performance vehicles that deliver what they promise – and are backed by world-leading parts and service support, both in the UK and international markets.
"The combined strengths of BYD and ADL create a powerful new alliance and I look forward to our business relationship flourishing in the years ahead. It is a fine example of British-Chinese co-operation and two innovative companies working together to create cleaner, greener transport solutions. It is also important to recognise that it is initiatives like this that help us support 2,500 ADL jobs and a further 1,500 in our build partnerships around the world."
About Alexander Dennis Limited
Alexander Dennis Limited (ADL) is the UK's leading bus and coach manufacturer, employing around 2,000 people at facilities in the UK, continental Asia and North America.
The fastest growing bus and coach builder in Western Europe, ADL encompasses three famous and successful marques – Alexander, Dennis and Plaxton.
ADL produces a wide range of innovative and fuel efficient, low floor single and double deck buses, plus a full portfolio of coaches, welfare and mini vehicles.
ADL products offer real operator, passenger and environment benefits, all backed by an unswerving commitment to world class customer support.
About BYD
Founded in 1995, BYD is a listed company on Hong Kong Stock Exchange and Shenzhen Stock Exchange. We principally engaged in IT industry mainly related to rechargeable battery business, handset and computer components and assembly services, as well as automobile business including traditional fuel-powered vehicles and new energy vehicles while taking advantage of our technical superiority to actively develop other new energy products such as solar farm, energy storage station, electric vehicles, LED, electric forklift, etc... Currently, BYD has nearly 180,000 employees and 22 industrial parks in global with an area nearly 17,000,000 square meters.