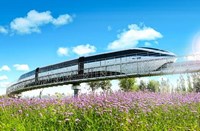 New energy technology company BYD's monorail transportation solution SkyRail has launched its first commercial line in Yinchuan, capital of Northwest China's Ningxia Hui Autonomous Region. The SkyRail line, housed under China Flower Expo Park in Yinchuan, officially goes into operation on September 1st.
SkyRail, which is China's first straddle-type monorail system, was developed out of BYD's five-year RMB 5 billion R&D project. It is a sustainable and strategic solution to counter traffic congestion in cities around the world while also offering more convenient mobility to urban residents.
Han Jianglong, Vice Mayor of Yinchuan, highlighted the significance of Yinchuan being the first city in the world to launch the BYD SkyRail line, "it is a strategic move for Yinchuan to introduce the green, low-carbon SkyRail to promote innovation, sustainable development and industrial transformation, as well as the improvement of the city's image."

As a rail transit alternative with relatively smaller passenger capacity, BYD SkyRail delivers numerous benefits, including low capital cost, short construction period, low noise level and elevated views. It can complement existing public transport systems to create a layered transport system. At the same time, SkyRail provides urban residents with safe, comfortable and fast mobility while making a real difference to alleviate traffic congestion.
"Mass transit systems are an indispensable solution to alleviate traffic congestion in cities", said BYD Chairman and President Wang Chuanfu at the launch ceremony. "Yinchuan is an important juncture of China's 'Belt and Road' initiative. The launch of SkyRail in Yinchuan is setting a benchmark for SkyRail projects to come in other cities, and demonstrates how BYD's innovative products can help alleviate traffic congestion in urban areas all over the world."

Since the launch of SkyRail in October last year, BYD has conducted feasibility studies in more than 100 cities worldwide including the city of Iloilo in the Philippines and has entered into strategic partnerships with over 10 cities in China, including Yinchuan, Guilin, Shantou, Guang'an and Bengbu. Construction of SkyRail lines are expected to begin in 20 Chinese cities in 2018.
About BYD
BYD Company Ltd. is a leading high-tech multinational company based in Shenzhen, China. Since its establishment in 1995, BYD has developed solid expertise in rechargeable batteries, becoming a relentless advocate of sustainable development. It has successfully expanded its renewable energy solutions globally with operations in over 50 countries and regions. After 22 years' development, BYD has created a Zero Emissions Energy Ecosystem – affordable solar power generation, reliable energy storage, cutting-edge electrified transportation and a state of the art monorail. These Four Green Dreams make BYD an industry leader in the energy and transportation sector. BYD is listed on the Hong Kong and Shenzhen Stock Exchange.