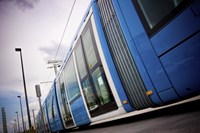 GVB Activa B.V., the Amsterdam public transport operator, has selected CAF as preferred bidder for the supply of new trams. The order includes the supply 63 new trams, as well as options for up to 60 additional trams.
The trams will run on the 213.3 km long Amsterdam Metropolitan network. The network consists of 16 lines with 490 stations in total. The capital of the Netherlands has a population in excess of 800,000, and is one of the main European touristic and economic poles of attraction.
The trams proposed by CAF for Amsterdam are low-floor, bi-directional vehicles, and combine modern aesthetics with state-of-the-art equipment. These new trams provide maximum accessibility without comprising comfort, performance and ease of operation. They provide sound evidence of CAF's capacity to cater for the unique requirements of each customer.
Significantly, GVB Activa B.V. already awarded CAF a project for the supply of 37 LRVs in 1994. These units are since then providing service in Amsterdam's underground network.
This project for the Dutch capital clearly underpins CAF's consolidation in the European Market, where the Company has won important contracts in United Kingdom, Italy and Belgium this year.
In this regard, the large number of LRV supply projects developed by the Company in recent years deserves special mention. These have been implemented in cities such as Budapest, Freiburg, Tallinn, Birmingham, Nantes, Besançon, Stockholm, Belgrade, Edinburg, Antalya, Cagliari, Luxemburg, Utrecht and Saint-Etienne.
The new project adds to an aggregate of new contracts awarded in 2016 in excess of €2,500 million, this would add to the Company's backlog to circa €6,500 million, including the most recent contracts which have not yet been signed, strengthening CAF's committed strategy towards growth over the next few years.
About CAF
CAF offers comprehensive global rail solutions which, in addition to the supply of trains, includes viability studies, civil work, electrification, signalling, maintenance and system operation in some cases.
Thanks to these integrated projects based on concession or turnkey models, customers are offered a single, global, specific solution, a solution that guarantees the integration and compatibility of all the systems.
Our products can be tailored to suit the specific requirements of each customer, providing safety, comfort and satisfaction to millions of users throughout the world.