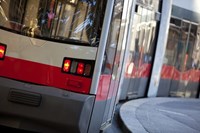 The Seattle Department of Transport (SDOT) has awarded CAF with a contract for the supply of 10x 3-module streetcars based on the URBOS platform and 100% low floor. This agreement is comprehensive of spare parts, special tools and testing equipment. SDOT also reserves the right to purchase up to an additional ten vehicles and their relevant spare parts during the valid term of the Contract. The Contract amount exceeds $50M.
The City of Seattle, with over 3.2 million inhabitants residing in the greater metropolitan area, is developing a modern streetcar system that will provide new urban mobility options, support economic growth, and strength connections with the most populated districts in Seattle. This new network will add to the present South Lake Union and First Hill Streetcar lines to create new North-South connections across Downtown.
The new vehicles will be equipped with the Onboard Energy Storage System, which is supplied by CAF Power & Automation, allowing them to run on the catenary-free sections of the network.
CAF operates a plant in Elmira (New York), and has completed an extensive number of projects in the country over the last few years. Highlights include the supply of metro units for the Capital City of Washington, LRVs for the cities of Sacramento (California), and Pittsburgh (Pennsylvania), as well as recent contracts for units for the Houston Metro and streetcars for Cincinnati and Kansas City. CAF is presently working on the manufacture and supply of passenger cars for the North American operator, Amtrak, and streetcars for the cities of Boston and Maryland.
Kansas City streetcar contract extension
The Kansas City Transport Authority has also received approval to purchase two additional streetcars from CAF to add to the four streetcars previously supplied which are in revenue service since last year. This decision was made in view of the increasing numbers of passengers in the streetcar network connecting River Market to Union Station, which has driven the city to increase the number of vehicles available for revenue service.
This extension is valued at $10M which, together with the aforementioned contract for Seattle, attests to CAF's substantial footprint in the American market. Remarkably, the amount of projects undertaken by CAF in the USA now exceeds $1.8BN.
About CAF
CAF offers comprehensive global rail solutions which, in addition to the supply of trains, includes viability studies, civil work, electrification, signalling, maintenance and system operation in some cases.
Thanks to these integrated projects based on concession or turnkey models, customers are offered a single, global, specific solution, a solution that guarantees the integration and compatibility of all the systems.
Our products can be tailored to suit the specific requirements of each customer, providing safety, comfort and satisfaction to millions of users throughout the world.