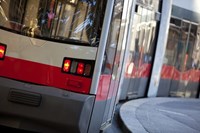 CAF MiiRA is the CAF Business Unit dedicated to the design and manufacture of wheels, axles, gearboxes, wheelsets and couplers for all types of rail vehicles. With more than 80 years' experience, this company has become a leading supplier of these products to all the major manufacturers and operators around the world, reaching annual turnover levels of 120 M€ over the last few years.
The strategic plan defined by CAF MiiRA for the next few years is in line with the one set by the CAF Group, with growth and diversification as its pivotal points. This takeover therefore represents a step towards the achievement of both objectives, by strengthening MiiRA's position in the wheelset maintenance service business while offering the possibility of providing other related services and increasing the spares turnover, wheels in particular.
RIFER, as Italy's leading provider of wheelset and railcar maintenance services, is based in Milan, very close to the Swiss border, at an important rail and intermodal transport hub. Thanks to this strategic location, CAF MiiRA will be ideally positioned to offer products and services to Central European countries. With a headcount of more than 60 employees and an annual turnover of close to 10 million euro, this company has experienced considerable growth over the last few years thanks to its commitment to modernising its facilities, production processes and methods.
This transaction will allow CAF MiiRA to expand and strengthen the company's portfolio of services, by enhancing its positioning in the Italian and Central European markets, increasing its possibility to offer integrated services that go beyond mere product supply, while laying the foundations for the CAF Group to gain a significant foothold in the wheelset maintenance services sector, at an international level.
Furthermore, CAF MiiRA has also acquired a minority shareholding in Cosmef WM, a company that is part of the RIFER group and is of a similar size, dedicated to heavy maintenance work on railcars. This ensures that full advantage is taken of the synergies between both companies and that the railcar maintenance business also remains within the CAF Group's orbit.
Likewise, it should also be noted that this transaction strengthens the Group's position in the freight car maintenance service business. It should not be forgotten that CAF is a licensed rail transport operator in Spain, for passengers and freight alike, while it has recently announced its interest with regard to the call for proposals made by the Ministry of Public Works and Transport relating to the high-speed rail project in mainland Spain.
About CAF
CAF offers comprehensive global rail solutions which, in addition to the supply of trains, includes viability studies, civil work, electrification, signalling, maintenance and system operation in some cases.
Thanks to these integrated projects based on concession or turnkey models, customers are offered a single, global, specific solution, a solution that guarantees the integration and compatibility of all the systems.
Our products can be tailored to suit the specific requirements of each customer, providing safety, comfort and satisfaction to millions of users throughout the world.