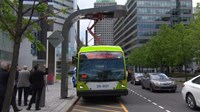 A total of 40 electric, slow-charging buses are expected to hit Laval and Montreal roads by 2020.
The buses fall under a $43.2 million contract that was awarded to Winnipeg-based company New Flyer Industries Canada, which will begin manufacturing the buses this coming spring.
"To date, this is the largest firm order for electric buses in Canada," a joint statement from the two municipal public transport agencies says.
Thirty of the 12-metre buses that were ordered will go to Montreal, and 10 to Laval, the statement says.
The provincial and federal governments provided a grant of over $9.6 million for Laval buses. On the Montreal side, 85 per cent of the funding will come from the province.
The Société de transport de Laval (STL), which already has one electric bus in circulation, aims to purchase only electric buses by 2023.

The Société de transport de Montréal (STM) currently has three electric buses in its fleet and aims to purchase only electric buses by 2025.
About CUTA
Public transit underpins the framework for livable, efficient and healthy communities. CUTA's success is measured by the success of our members, the value they gain from membership and the strength of our collective influence on advancing public transit and integrated urban mobility in Canada.