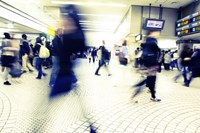 The Canadian Urban Transit Association (CUTA) commends the federal government for releasing the fiscal framework for Phase II of the Public Transit Infrastructure Fund in its fall economic update. Finance Minister Bill Morneau announced an 11-year federal commitment to invest $25.3 billion in public transit infrastructure across Canada, a sum that exceeds previous commitments from this government.
"These investments will enable long range planning for transit and integrated urban mobility in Canadian communities. It will ultimately take a big bite out of the congestion that's been slowing down our economic productivity and polluting our cities" said Patrick Leclerc, President and CEO of CUTA. "This sensible approach to transit investment will enable transit systems to address many of their most crucial needs—from major new infrastructure projects to ensuring sound asset management."
In addition to its support for dedicated transit investment, the government will also establish a Canada Infrastructure Bank to support the development of big, transformative infrastructure—including transit projects. In the coming months, the government will pursue the successful implementation of Phase 1 investments in support of public transit infrastructure, and will announce further details on the allocations for the new $25.3 billion investment in public transit through Budget 2017. CUTA will continue to work closely with the government and other stakeholders to ensure that Canadians benefit from innovative transit investment now and in the future.
"What is most exciting about these commitments are the spin-off benefits that they will produce. Transit isn't just about moving people from point A to point B, it's about economic competitiveness, reducing GHG emissions, and building livable communities," said Leclerc. "Thanks to growing investment from all orders of government the transit industry has become a strong economic driver in Canada and a hub for global innovation. The Canadian transit industry employs nearly 75,000 Canadians, meets about 70% of North America's urban transit bus market and is at the vanguard of researching and developing game-changing technologies—investing in everything from alternate propulsion to autonomous driving technologies."
About CUTA
CUTA is the collective and influential voice of public transportation in Canada, dedicated to being at the centre of urban mobility issues with all orders of government, and delivering the highest value to its members and the communities they serve. CUTA is the national association representing public transit systems, suppliers to the industry, government agencies, individuals and related organizations in Canada.