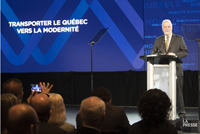 The Quebec government announced almost $3 billion in new funds for sustainable mobility projects on Tuesday as Premier Philippe Couillard said his administration is aiming to make Quebec a North American leader in sustainable mobility by 2030.
To that end, the government is aiming to give 70 per cent of the province's population access to at least four sustainable transport services, with 20 per cent reductions in commute time, gross expenses for transport and solo car usage, as well as a 40 per cent reduction in the use of gasoline from 2013 levels.
The plan called for a 5 per cent per-year increase to public transportation, which Couillard said would hopefully translate into a 20 per cent increase in ridership on public transportation over 10 years.
"Pushing people towards something doesn't really work. Convince them they have a good option and they will choose it," said Couillard. "Let's say after we open the first section of the REM, you're sitting in your car in a traffic jam trying to cross the bridge and you see REM trains going by your side window every three minutes. It won't take long before you decide to leave the car at home."
Along with the metro, buses and REM light-rail system – promised to be running by 2021 – the provincial government said it's trying to encourage Quebecers to adopt other sustainable transport options, including carpooling, bicycle lanes and rideshares.
About Canadian Urban Transiot Association (CUTA)
Public transit underpins the framework for livable, efficient and healthy communities and CUTA's success is measured by the success of our members, the value they gain from membership and the strength of our collective influence on advancing public transit and integrated urban mobility in Canada.
CUTA members include the vast majority of transit systems in Canada, from Victoria and Vancouver, to Halifax and St. John's are CUTA members. Membership includes transit systems, government agencies (Federal, Provincial and Regional/Municipal), business members (companies or persons engaged in the manufacture or sale of transit equipment or services), and affiliates (associations, individuals, and others).
CUTA's extensive network of national and international associations and stakeholders builds active partnerships designed to strengthen the industry and build support for public transit and integrated urban mobility.
The government is also aiming for a 37.5 per cent reduction in greenhouse gases from 1990 levels in the transport sector.