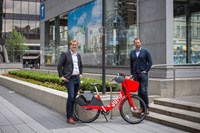 Uber executives are pitching the benefits of the company's services in a substantially new way as they wait for the British Columbia government to unveil how it plans to regulate ride-hailing companies.
Two of the U.S.-based firm's top managers say their company, which has disrupted existing taxi systems around the world by allowing any driver and passengers to connect, is talking to city planners and transportation agencies about how their service can integrate other kinds of transportation, from bikes to transit to taxis.
Previously, the platform was just about getting people convenient rides.
"I've seen Uber evolve from helping someone to get a luxury ride to helping a city get more sustainable transportation," said Michael van Hemmen, the company's Vancouver-based general manager of cities.
A sign of that change was the visit to Vancouver this week by Uber's global head of transportation policy, who holds an urban-planning degree from Harvard University and who talks at length about the new efforts Uber is making to improve transportation in cities over all.
"The pitch we're making is that 'We want to grow that overall pie [of transportation choices]. Everything that's not your personal car, those tend to work together,' " said Andrew Salzberg, who came to speak at the Canadian Urban Transit Association's symposium on "new mobility."
The company is moving into new areas, such as providing dockless bikes in some cities and working with cities on the idea of integrating Uber and all other transportation options into a single app.
"Stitching all that together will make it easier to leave the car at home," Mr. Salzberg said.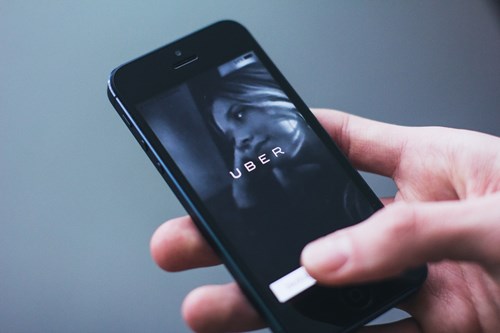 In New York, Uber has contributed money toward promoting that city's efforts to introduce congestion pricing – a system of charging drivers by the kilometre or time of day for their use of roads, something that is also being considered for B.C.'s Lower Mainland.
Uber has also sold its services to some small towns and suburbs as an alternative to a government-run transit system.
Uber's new language and direction come after years of explosive growth by the company and other ride-hailing systems. That growth has upended normal transportation systems and left cities scrambling to adapt, as they face groups of residents who are enthusiastic about ride hailing and opponents who fear that ride-hailing platforms will wreck local taxi systems, transit ridership and options for people who need special transportation services.
Vancouver is the largest metro region in North America without legal ride-hailing operations.
In other cities, Uber has sometimes simply moved in and forced city governments to accommodate the new platform. In B.C., however, the province controls car insurance and so has been able to keep ride-hailing systems out because it has the ability to prevent drivers from getting insurance if they are operating like a taxi.
Ride-hailing platforms in B.C. have been caught up in local politics due to the strong efforts of taxi-licence holders to resist them. Owners of B.C. companies are a strong lobby group that contributes money to political parties at both the municipal and provincial level.
Some political analysts have said that the B.C. Liberals' promise to bring in Uber cost them deciding votes in suburban ridings in the 2017 election and led to the new NDP government.
Mr. van Hemmen said the company is anxiously awaiting the provincial report that will decide Uber's fate.
The province hired industry expert Dan Hara last year, asking him to come up with recommendations for modernizing both taxi and ride-hailing regulations, saying that a plan to bring ride-sharing services to the province would be finalized sometime this year.
Mr. van Hemmen said the number of drivers Uber would have if the company is allowed to operate in B.C. will depend on how many requirements the province creates for cars and drivers.
About CUTA
Public transit underpins the framework for livable, efficient and healthy communities and CUTA's success is measured by the success of our members, the value they gain from membership and the strength of our collective influence on advancing public transit and integrated urban mobility in Canada. CUTA members include the vast majority of transit systems in Canada, from Victoria and Vancouver, to Halifax and St. John's are CUTA members. Membership includes transit systems, government agencies (Federal, Provincial and Regional/Municipal), business members (companies or persons engaged in the manufacture or sale of transit equipment or services), and affiliates (associations, individuals, and others).