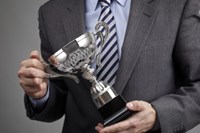 On Friday June 23, the Bicester to Oxford Collaboration was named winner of the prestigious Cross Industry Partnership Award for the delivery of the Chiltern Railways' Oxford to London service and the first phase of the East West Rail programme at the Rail Industry Innovation Awards 2017.
Rob Mole, East West Rail project manager at Network Rail, speaking on behalf of the collaboration, said: "The Oxford to London project and East West Rail Phase One were achieved by combining technical design excellence and digital engineering with collaboration between client, designer and contractor.
"This openness of spirit created a strong sense of trust and integrity, encouraged open channels of communication and a 'one team' mentality. It provided a positive environment in which new approaches could be nurtured and drew on the expertise of each organisation."
The Bicester to Oxford collaboration consists of Chiltern Railways, Network Rail, Carillion Buckingham Joint Venture, Atkins, Siemens and RSK.
This large scale and complex multidisciplinary project involved a significant number of major stakeholders throughout the lifecycle of the project. The scope of the project evolved, from its inception as a Train Operating Company (TOC) with a vision to create a new route connecting Oxford to London Marylebone station, to the realisation of its status as one of the defining rail infrastructure programmes of our times.
Chiltern Railways, an Arriva UK Trains company, had already committed £130 million to construct the stations and infrastructure. The establishment of the much broader £320-million East West Rail programme necessitated the opening of communications channels with multiple stakeholders, from initial feasibility stage through to the commissioning of the scheme.
Rob continued: "Establishing the right mechanisms to maximise the collective performance of each organisation was paramount to the success of the project."
Our collaborative working method has been key to the success of opening three new stations and achieving the first new dual track railway in 100 years between London and Oxford with 100mph line speed. Additionally, closing 37 existing level crossings has enabled us to achieve a safer railway for all.
One of the most valuable examples of the high standards of collaborative working culminated in the "Bat Deterrent Lighting" at Wolvercote tunnel. This involved working closely with Natural England and their specialists to develop an innovative solution to manage the wellbeing of bats, by deterring them from flying around when a train is approaching and travelling through the tunnel.
The Oxford to London project and East West Rail Phase 1 (EWR1) sit within the broader suite of works which is being carried out to boost regional connectivity between Oxford and Felixstowe, driving social cohesion and galvanising local economies by connecting people and businesses to jobs and services. The project provides the first new railway from the capital to a major UK city in over 100 years, via a new chord line, connecting the Chiltern Mainline to London Marylebone.
EWR1 was commissioned to improve a 16-kilometre section of railway between Oxford and Bicester, transforming it from a single track branch line to a modern 100mph twin-track railway. This not only meant that a new line was open to passengers; its capacity was also significantly improved by its upgrade from single to twin-track status and increased line speed to 100mph.
The scheme had a phased opening, with the line from Oxford Parkway opening in October 2015 with the Prime Minister in attendance. The completed line was officially opened to passengers in a ceremony led by the Secretary of State for Transport, Chris Grayling, on 12 December 2016.
About Chiltern Railways
Chiltern Railways operates services from London Marylebone to destinations in Buckinghamshire, Oxfordshire, Warwickshire and the West Midlands. Services are now running from Oxford Parkway to London Marylebone and launched from Oxford city centre in December 2016.
Chiltern Railways is part of Arriva plc, the division of Deutsche Bahn AG responsible for regional passenger transport outside of Germany.
Chiltern Railways is one of the most innovative train operators in the UK. Chiltern was also the first train operator in Britain to introduce mobile ticketing and fulfilment through their award-winning app.