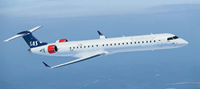 Irish airline CityJet has been awarded a major wet lease contract by SAS (Scandinavian Airlines) to operate a network of regional routes from Helsinki, Oslo and Stockholm . Commencing in March 2016, CityJet will operate services on behalf of SAS using eight new aircraft, with an option to increase to 14 aircraft in 2017.
CityJet has also announced that it is to acquire eight 90-seat Bombardier CRJ900 regional jets, major components of which are manufactured by Bombardier Aerospace in Belfast. The CRJ900 fleet will be operated exclusively on behalf of SAS, with all aircraft in SAS colours and crewed by CityJet staff.
In addition to the eight aircraft in 2016, the contract has potential to add six further aircraft in 2017, bringing the total aircraft value to over $650m;
"The SAS contract has immense strategic significance for CityJet's growth and development, strengthening its market position across Europe and facilitating ongoing investment and growth. Securing this contract with SAS is a major vote of confidence in our team and in our expertise, and will help support future business expansion", Pat Byrne, CityJet 's Executive Chairman said at the announcement of the new business win.
"We are looking forward to working with CityJet to further expand our regional route network and thereby strengthen SAS's offering to frequent travelers. The eight brand new CRJ900s from CityJet will provide us with efficient and flexible production of regional flights that will complement SAS's production on the larger traffic flows," says Rickard Gustafson, President and CEO at SAS.
"We welcome CityJet as the newest member to the CRJ family. With its unique operations, CityJet has forged strong business relationships with many of Bombardier's long-standing customers such as SAS who now look to CityJet's expertise for their network growth" said Ryan DeBrusk, Vice President, Sales, Europe, Middle East, Africa, Russia & Commonwealth of Independent States for Bombardier. "CityJet brings an impressive amount of knowledge and experience in the wet lease market whereby it will now provide airlines with modern aircraft, crews and maintenance for operation."
Since becoming independent last year, CityJet has seen continual growth across its network, and will carry over two million passengers this year on its scheduled services, charter services, and a Paris-based wet lease programme for Air France.
The airline has recorded 40% growth on its key route Dublin to London City route in the last six months, as well as strong advance bookings for the new Cork to London City service, which commences today and will see up to eighteen flights a week on the route.
CityJet now employs almost 500 staff, with over 300 based at its headquarters in Swords, County Dublin, and additional crew bases in London and Paris.
About CityJet
CityJet, a truly European airline, is headquartered in Dublin, and has offices in Antwerp and London, with staff residing across Europe, in Belgium, The Netherlands, France, The United Kingdom and Ireland.
With a combined fleet of 30+ aircraft comprising Avro RJ85 and Fokker 50 aircraft, the airline operates a total of more than 680 weekly flights all over Europe throughout its entire network.