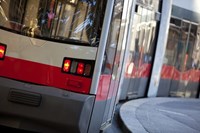 On Monday, November 28 Charlotte City Council awarded vehicle manufacturer and construction contracts for the CityLYNX Gold Line Phase 2 project.
The Johnson Bros. Corporation of Roanoke, Texas was awarded $80,671,158 to construct the Phase 2 segment of the CityLYNX Gold Line streetcar and $13,432,362 for associated city improvements. The Johnson Bros. Corporation, part of Southland Holdings LLC, specializes in bridge, highway and infrastructure services across the United States and Canada.
Siemens was selected to build six S70 hybrid streetcars. These vehicles, which will debut along with the opening of the Phase 2 alignment, will replace the green and yellow Gomaco replica vehicles currently in operation. The S70 streetcar vehicles are designed with hybrid capability, allowing for operation in portions of Uptown without the need for power from an overhead catenary system (OCS). The S70 streetcars are a compact version of the S70 light rail vehicles that currently operate on the LYNX Blue Line. The cost to purchase these six vehicles and spare parts is $40,400,000.
"The CityLYNX Gold Line is an essential component of our region's overall transit system, complementing the LYNX Blue Line and future extension in the south and northeast corridors. Linking east to west, this streetcar line provides connectivity and opportunity throughout Uptown and it's neighboring communities", said CATS CEO John Lewis. "We are excited to work with The Johnson Bros. Corporation and Siemens as we move forward with the expansion of this vital project."
The CityLYNX Gold Line Phase 2 project is set to break ground in January 2017 with revenue service beginning in 2020.
CityLYNX Gold Line
The CityLYNX Gold Line is a 10-mile streetcar system that is being constructed in phases. The first phase opened in July 2015 and provides a 1.5-mile route with six stops from the Charlotte Transportation Center to Novant Health Presbyterian Medical Center with connection to the LYNX Blue Line. The Phase 2 project will extend the current alignment by 2.5 miles on the east and west ends of the line, creating a four-mile system. Construction is expected to begin in early 2017 with the opening of the extended line in 2020.
About Charlotte Area Transit System (CATS)
CATS is the largest transit system between Atlanta, GA and Washington, DC with over 70 local, express and regional bus routes, the LYNX Blue Line, North Carolina's first light rail, the CityLYNX Gold Line streetcar, door-to-door para-transit services for the disabled, and vanpools providing more than 25 million customer trips each year. With a fleet of 400 of buses, 24 light rail vehicles and 3 streetcars, CATS provides nearly 83,000 passenger trips each day.