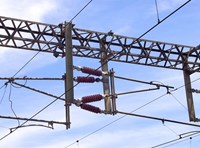 Network delivers both operational and passenger communications on one of the world's largest driverless train systems operating in Malaysia's capital
Project was integral to the Kelana Jaya Light Rail Transit Line Extension, which now covers an additional 13 stations over 46.8 km and serves 350,000 passengers daily
Highlights Nokia's progress expanding business outside of the traditional telecommunications sphere to organizations requiring mission-critical networks
Nokia has provided an advanced communications network to support railway operations and passenger services for the extension of the light rail system in Kuala Lumpur, the capital of Malaysia. The mission-critical railway network provides a range of services for the Kelana Jaya Light Rail Transit (LRT) Line Extension - including 13 new stations - which is used by 350,000 passengers daily.
The project was completed in conjunction with CMC Engineering Sdn Bhd, which was responsible for the construction of systems work packages of the line extension.
The mission-critical network provided by Nokia is now supporting high-speed voice, data and video traffic as well as delivering essential services to ensure safety and security on the line's driverless trains, while providing essential passenger information and enabling more efficient maintenance and operations.
This project highlights Nokia's growing business with customers outside of the traditional telecommunications market, who also have a need for 'carrier-class' networks to support their operations. Nokia has established a strong record of success in the railway industry in particular, providing mission-critical networks to more than 100 passenger and freight railway operators globally.
The data transmission network in Kuala Lumpur includes optical networking technology from Nokia. The company also provided systems integration services to enhance safety and security through remote diagnostics and automated functions; constant situation awareness with video surveillance; Supervisory Control and Data Acquisition (SCADA); monitoring systems; telephone and radio communications services; automated fare collection (AFC); and public address and passenger information systems.
Hazwan Alif Abdul Rahman, Chief Executive Officer of CMC Engineering Sdn Bh, said: "As one of the National Key Results Areas (NKRA) under the Malaysian Government Transformation Program (GTP), the Kelana Jaya LRT Line Extension project is another important government initiative to deliver an effective and seamless public transportation system for the Greater Kuala Lumpur area. Together with our technology partner Nokia, the project testifies to CMCE's capability to maintain high quality standards and services for its stakeholders, partners and customers."
Stuart M. Hendry, head of Global Enterprise & Public Sector, Asia Pacific at Nokia, said: "Railway operations can benefit enormously from modern communications networks. The data transmission network deployed as part of the Kelana Jaya LRT Line Extension will support a wide variety of operational services, and provide a range of new services for passengers in Kuala Lumpur. Nokia has the experience and expertise to ensure both safe and comfortable journeys for railway operators and passengers worldwide."
About Nokia
Nokia is a global leader in the technologies that connect people and things. Powered by the innovation of Nokia Bell Labs and Nokia Technologies, the company is at the forefront of creating and licensing the technologies that are increasingly at the heart of our connected lives.
With state-of-the-art software, hardware and services for any type of network, Nokia is uniquely positioned to help communication service providers, governments, and large enterprises deliver on the promise of 5G, the Cloud and the Internet of Things.