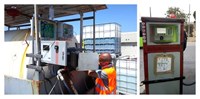 The entire bus network in Malta and Gozo is operated by the company Malta Public Transport. A total of 80 different bus routes connect a variety of Maltese localities with central transport hubs. A large transport network such as this has to be managed in a cost-effective way. This is where Hectronic comes into the equation.
With its innovative concept "Smart Refuelling", Hectronic, together with its Italian sales partner TGI, has been able to impress and successfully deploy its complete refuelling solution portfolio in Malta. On the premise of maintaining the existing fuel pumps, the previous fuel terminal was replaced by the Heconomy Universal plug-in unit specially designed for the purpose.
In addition, around 330 vehicles were also equipped with the automatic vehicle recognition system PetroPoint, which approximately corresponds to the entire Malta Public Transport bus fleet. Centralised data management is carried out using HecPoll management software. This is complemented by the company filling station solution through Hectronic's intelligent tank contents management. Robust HLS filling level probes with density measurement function are also deployed, the data of which are attractively visualised using the Mineo Touch Controller. This means that nothing stands in the way of a transparent reporting system – a smooth transport operation is guaranteed.
About Hectronic
Hectronic: almost 270 employees, company headquarters in Bonndorf/Germany, two more locations in Germany - Oberhausen and Bremen - and six other locations in Switzerland, France, Poland, India, Austria and the USA. This also means world-wide business relationships and more than 70 distribution partners around the globe. The company, headed by Managing Director Stefan Forster, offers a complete product range in the parking and fuelling market segments and has tremendous world standing in terms of quality and innovation.