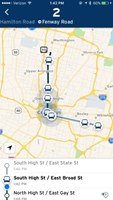 COTA passengers wondering when the bus is going to show up at their stop can stop pacing and looking impatiently down the street.
Starting May 6, they can look at their smartphone instead. That's when the Central Ohio Transit Authority will launch real-time bus tracking through a third-party app.
The long-awaited technology will be available on smartphones through the Transit App, which also tracks CoGo Bike Share, Car2Go and Uber in Columbus.
>> Download the COTA Transit app
"We've been testing this for awhile. It seems to be working just perfectly. (But) you never know what might pop up," CEO Curtis Stitt said. "We wouldn't put it out if there were things we knew needed to be fixed at this point."
Through the app, users will be able to plan trips, see when buses will arrive at their stop in real time and watch buses creep from stop to stop along a digital map. Real-time tracking won't be available on COTA.com or through Google when it launches, but Stitt said that is coming in the near future.
Riders have been asking for real-time tracking for several years, but launching the technology has proved difficult for COTA.
The agency had planned to have it in place years ago. COTA hired the Trapeze Group in May 2009 with a $7.6 million contract to provide a computer dispatch and automated system for locating vehicles, which included real-time tracking.
The system was supposed to be done by the end of 2010, but the real-time data was unreliable. COTA has spent the last several years working with Trapeze to improve the data.
Late last year, COTA considered alternatives to Trapeze but elected to stay the course in part because of the time and cost to change directions.
Launching through Transit App didn't cost COTA any more money, said Kelsie Marty, COTA's online marketing manager.
When it launches through Transit App, COTA also will make its real-time feed available on its website for other app developers to use.
The app is already available for download, but arrival and departure times are based on COTA's schedules. Starting May 6, it will use a real-time GPS feed from COTA buses. It is available to download at transitapp.com.
"Because they already had a functional app, they were able to do this with relative ease," Stitt said.
Transit App users will be able to see a list of nearby bus lines based on their location, and the app will show a countdown of when each will arrive at the nearest stop. They also will be able to tap an individual stop to see real-time arrival information. The countdown will be marked with a radio-wave icon to show users the bus is being tracked in real-time.
Bus icons will also be shown moving on the map view, but locations could be off by more than a minute.
Spokeswoman Lisa Myers said riders still should plan to arrive at stops about five minutes early.
"We have been perfecting our data," Marty said. "We are comfortable with this."
About COTA
The Central Ohio Transit Authority is the regional public transit provider for greater Columbus and central Ohio. With a service area of 1.2 million residents, COTA provides more than 19 million passenger trips annually.

Thanks to the support of the community, COTA now offers a more comprehensive bus service, with extra lines and longer hours of operation. Today, COTA operates throughout Franklin County, and parts of Delaware, Fairfield, Licking and Union Counties. Click here to view the 2015 Report to the Community.