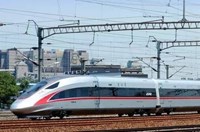 China's new-generation bullet train, the Fuxing, will make seven round trips each day between Beijing and Shanghai from Sept 21 at a speed of 350 km/h. It will be the world's fastest commercial bullet train, cutting the travel time between the two cities from 5.5 hours to 4.5 hours.
Eager to compete with rivals in Japan and Germany, CRC and CRRC also signed a cooperation agreement in Beijing on Aug 21 to deepen relations in every link of the railway industry chain, from research and development to design, manufacturing, installation, maintenance and financing.
CRRC Chairman Liu Hualong says the partnership will improve China's railway industry, optimize the allocation of resources, modernize the current financing mode in the sector and deepen the impact of the Belt and Road Initiative, as well as lead to the export of more new-generation bullet trains.
China started to run its first 350 km/h high-speed train between Beijing and Tianjin in August 2008 and opened at least three more high-speed lines nationwide in the following years, until the government limited the maximum speed at 300 km/h in 2011.
The Fuxing trains were unveiled in June and are capable of top speeds of 400 km/h.
About CRRC Corporation Limited
CRRC is the world's largest supplier of rail transit equipment with the most complete product lines and leading technologies. Its main businesses cover the R&D, design, manufacture, repair, sale, lease and technical services for rolling stock, urban rail transit vehicles, engineering machinery, all types of electrical equipment, electronic equipment and parts, electric products and environmental protection equipment, consulting services, industrial investment and management, asset management, import and export.