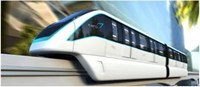 Recently, CRRC Puzhen Bombardier Transportation System Co., Ltd. (hereinafter referred to as "Puzhen Bombardier") has officially obtained the order for straddle-type monorail vehicles for the Yellow Line and the Pink Line of rail transit in Bangkok, Thailand, and has signed the contract.
The Yellow Line and the Pink Line in Bangkok are two important rail transit lines in the urban area of Bangkok, which both use straddle-type monorail system, and are scheduled to be put into operation by the end of 2021. Puzhen Bombardier is responsible for providing a total of 288 (72 four-car trains) INNOVIA 300 straddle-type monorail cars. The driving mode will adopt the most advanced automatic unmanned technology in the world. The first train will be delivered before the end of June 2020, and all trains will be delivered in 2021.
It is reported that Puzhen Bombardier completed the construction of its first straddle-type monorail vehicle and MRT system rubber-tired vehicle production base in Wuhu, Anhui at the end of 2017. It is also the world's only production base for the straddle-type monorail vehicle of Bombardier, with an annual production capacity of more than 200 vehicles, which is capable to guarantee the on-time delivery of the project without any difficulty.
Established in 2014, CRRC Puzhen Bombardier Transportation System Co., Ltd. was jointly funded by CRRC Nanjing Puzhen Co., Ltd. and Bombardier Transportation. It was the first domestic company specialized in design, production, integration and sales of monorail and APM rubber-tired rail transit vehicles and systems. Since its establishment, the company has successfully obtained a number of medium-volume rail transit projects, including the Hong Kong Airport APM, the Shenzhen Airport APM, and the Wuhu straddle-type monorail Line 1 and Phase I o f Line 2. In March 2018, Shanghai-Pujiang Line, the first domestic rail transit APM driverless line using its vehicles, was officially opened for trial operation.
About CRRC

Headquartered in Beijing, CRRC Corporation Limited (CRRC) has 46 wholly-owned & majority-owned subsidiaries and over 180,000 employees. CRRC is the world's largest supplier of rail transit equipment with the most complete product lines and leading technologies. Its main businesses cover the R&D, design, manufacture, repair, sale, lease and technical services for rolling stock, urban rail transit vehicles, engineering machinery, all types of electrical equipment, electronic equipment and parts, electric products and environmental protection equipment, consulting services, industrial investment and management, asset management, import and export.