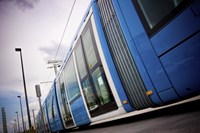 On August 2, a consortium led by CRRC Zhuzhou Locomotive Co., Ltd. and Prasarana Malaysia signed the supply contract of 42 vehicles for Kuala Lumpur Light Rail Line 3 in Kuala Lumpur.
This is the first overseas project of fully automatic, driverless light rail vehicles led by a Chinese enterprise. The vehicles adopt a variety of innovative technologies, representing a milestone in the industry.
The vehicles adopt GOA4 level technology, which is the highest level for driverless trains, involving no driver or crewmember. Under the unified control of the control center, the vehicles can achieve fully automatic operation, including automatic hibernation, wake-up, preparation, self-check, operation, train stop, door opening and closing, as well as train cleaning. The vehicles can also be automatically restored in case of failure. According to the project plan, the first train will be delivered in August 2018. 40 trains in this contract will be manufactured by CRRC Malaysia. This will help promote the cultivation of local talents and industry and eventually benefit both sides.
About CRRC Corporation Limited
CRRC is the world's largest supplier of rail transit equipment with the most complete product lines and leading technologies. Its main businesses cover the R&D, design, manufacture, repair, sale, lease and technical services for rolling stock, urban rail transit vehicles, engineering machinery, all types of electrical equipment, electronic equipment and parts, electric products and environmental protection equipment, consulting services, industrial investment and management, asset management, import and export.