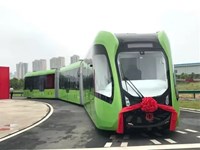 The world's first railless train unveiled in Zhuzhou, Central China's Hunan province on 2 June 2017. The 30-meter train, with three carriages, is part of the intelligent rail express system by the developer, and runs on rubber tires rather than rails. The train can move at a speed of 70 km/h and can carry up to 500 passengers, offering new options for easing modern transport pressures. The train is also powered by electricity and can travel 40km per full charge.
The ART, Autonomous Rail Rapid Transit, was developed by CRRC Zhuzhou Institute Co Ltd, which produces key parts for high-speed railway.
The train is about 30 meters long and equipped with sensors that can read the dimensions of roads and plan its own route. It is like having a virtual rail for the train.
The train has three carriages with a capacity of 300 people. A five-carriage train can hold as many as 500 passengers.
Most medium-sized and small cities cannot afford expensive subway systems, or the systems take too long to build
According to the government of Zhuzhou city in Hunan province, a 6.5-kilometer ART line will be built through downtown Zhuzhou and operations will start in 2018.
About CRRC Corporation Limited
CRRC is the world's largest supplier of rail transit equipment with the most complete product lines and leading technologies. Its main businesses cover the R&D, design, manufacture, repair, sale, lease and technical services for rolling stock, urban rail transit vehicles, engineering machinery, all types of electrical equipment, electronic equipment and parts, electric products and environmental protection equipment, consulting services, industrial investment and management, asset management, import and export.