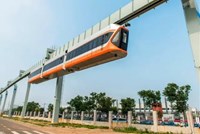 A prototype of suspended monorail train rolled out in CRRC Sifang recently. The max. Speed of the train is 70 km/h, the fastest of its kind in China.
Driven by a permanent magnet motor, the experimental train runs along an overhead monorail.
The train can be composed of three or five train cars, with a passenger transport capacity of 300 and 510 people, respectively.
The train has a strong climbing ability with a maximum inclining in an altitude up to 100 meters over a length of 1,000 meters.The monorail system is suitable for passenger transport in scenery areas, mountainous regions and urban areas where road traffic is heavy.
CRRC Sifang based in Qingdao city, Shandong province, East China, is undertaking China's first suspended monorail project in Hancheng city, Northwest Shaanxi province. The construction of the line designed to stretch 55 km began in November last year.
The line running in south-north direction through the city links with the city's airport, and threads through a number of scenic and historical sites along the city.
About CRRC Corporation Limited
CRRC is the world's largest supplier of rail transit equipment with the most complete product lines and leading technologies. Its main businesses cover the R&D, design, manufacture, repair, sale, lease and technical services for rolling stock, urban rail transit vehicles, engineering machinery, all types of electrical equipment, electronic equipment and parts, electric products and environmental protection equipment, consulting services, industrial investment and management, asset management, import and export.