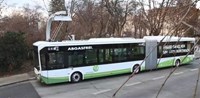 For the first time, an electric bus manufactured by the Chinese company CRRC has been put into operation in Europe, in Graz, Austria's second largest city.
An official press release from the company follows:
The amazing Graz is the second largest city of Austria, and is also the transport and culture center in Southeast Austria. Recently, overseas electric bus project of CRRC was formally put into operation in Graz; it is the first time for the electric bus of CRRC to run in Europe. As the representative of "green and intelligent" public transport development trend, the electric bus from China will add a bright spot of "new green energy" to the streets of Graz.
The advantages of Chinese vehicles in technology and environmental protection can be seen from the following data: the bus is independently developed by CRRC Zhuzhou Locomotive Co., Ltd., and has length of 18m and passenger capacity of 135 persons; 60,000F super capacitor is taken as main power supply, and titanic acid lithium battery is taken as auxiliary power supply. Charging can be completed in 30s during passenger boarding/alighting to ensure 24h operation. Car body is made from corrosion-resistant and long-life lightweight aluminum alloy, and has passed electromagnetic compatibility test and strict CE certification. The electric bus is put in demonstration operation for Route 34E in Graz, with service line length of 3.5km.
In addition to perfect technology, optimization and improvement have been performed for many interior details of the vehicle, such as seat, button, air conditioner and goods shelf to greatly improve comfort. For example, through close communication with Austrian party, commissioning personnel and service engineers of Chinese party has performed process and equipment optimization and upgrading for the vehicle to enlarge interior space and increase seat number to 34; low floor design is adopted, and alighting bell and other humanized facilities are equipped to provide comfortable riding experience.
The local media and people of Austria also praised the excellent performance and environmental friendliness of the electric bus of China. Mayor of Graz, Siegfried Nagl said that Graz had annual public transport fuel consumption of 6 million liters, and electric bus may be adopted to save money for the city, and bring about cleaner air and mitigate city noise.