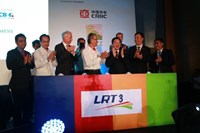 Prasarana Malaysia, a public transport infrastructure company, signed an agreement with a consortium led by CRRC on 2 August to introduce autopilot trains to Malaysia's public transportation system.
Prasarana, which is owned by the Malaysian government, awarded the 1.56-billion-ringgit (364.11-million-U.S. dollar) Light Rail Vehicle (LRV) work package of the Light Rail Transit 3 (LRT3) to a consortium including CRRC Zhuzhou Locomotive Co., Ltd. (CRRC ZELC) and Siemens Ltd China.
The agreement will see the consortium to be responsible for the design, manufacture, supply, delivery, installation, testing and commissioning of 42 six-car LRVs for the LRT3 project.
The LRVs, which will be Malaysia's first six-car driverless trains, marks a key step of the group's overseas expansion. Fourty of the 42 trains will be manufactured in CRRC's manufacturing center in Malaysia.
On 3 August, prime minister Perdana Menteri highly praised cooperation achievement when he met CRRC Chairman Liu Hualong.
CRRC Chairman Liu Hualong said CRRC and its partners are looking forward to providing the Malaysian commuters with the delivery of superior LRVs that will ensure reliable performance and topmost quality.
"The consortium will provide the necessary experience and skill sets to ensure the smooth delivery of the works involved," he added.
The LRV, which will be the first green rail in Malaysia, is capable of carrying 1,271 passengers. It would employ the most advanced autopilot system, which would require no pilot on board the train. Forty of the LRVs will be manufactured in Malaysia.
Spanning 37 km in length, the LRT3 will provide an accessibility to commuters in three major cities near the capital of Kuala Lumpur - Klang, Shah Alam and Petaling Jaya. The project is expected to be completed in 2020.
About CRRC Corporation Limited
CRRC is the world's largest supplier of rail transit equipment with the most complete product lines and leading technologies. Its main businesses cover the R&D, design, manufacture, repair, sale, lease and technical services for rolling stock, urban rail transit vehicles, engineering machinery, all types of electrical equipment, electronic equipment and parts, electric products and environmental protection equipment, consulting services, industrial investment and management, asset management, import and export.