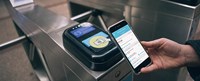 Cubic Transportation Systems (CTS), a business unit of Cubic Corporation (NYSE:CUB), today announced it was awarded a $33 million contract from the Miami-Dade County's Department of Transportation and Public Works (DTPW) to modernize the Cubic-supplied EASY Card revenue management system and provide 10 years of back office cloud computing and support services. The systems enhancement project provides a significant technology refresh and expansion of customer services at a fraction of the cost for a new system procurement. The award includes Cubic's contactless bankcard and Near Field Communications (NFC) mobile open payment, as well as upgrades to fare terminals and the EASY Card back office to process account-based transactions for new and easy ways to pay.
The contract supports DTPW's mission to provide more payment options and a richer customer experience to its demographics, including regular commuters, occasional riders, tourists and visitors to the Miami area. These technology upgrades will complement and enhance the existing EASY Card system, delivered by Cubic in 2009, for the Department that has average daily boardings of approximately 300,000 on Metrobus, Metrorail, Metromover and Special Transportation Service.
In addition to EASY Card, Cubic's payment technologies for DTPW will represent a hybrid system drawing from Chicago and London, the world's two largest open and account-based payment transit systems – developed by Cubic – and brings DTPW to the forefront of transit agencies ready to embrace these proven technologies. Open payment lets riders pay with the contactless bankcards already in their wallets, as well as NFC-enabled mobile devices, with a simple tap on fare readers. These single-journey payments are processed directly against their bankcard accounts – eliminating the inconvenience of dealing with unfamiliar ticket vending machines and prices while saving time.
Mobile payments also will be supported through mobile wallets, such as ApplePay, AndroidPay, and Masterpass. Emerging wearables, such as the AppleWatch and Samsung Gear, will also be accepted.
In collaboration with Passport, Cubic will also introduce a new mobile app that gives riders a range of convenient features and tools, including EASY Card balance checking, viewing account history, account management and fare product purchases for loading to their EASY Cards. Passport is a leading provider of transportation mobile applications, having delivered parking applications in cities such as Chicago, Toronto, and Boston, as well as, mobile ticketing applications in Sacramento, Cleveland, and Jacksonville.
Riders will be able to add value to their existing EASY Cards or download a virtual EASY Card into their NFC- enabled mobile phones. For those with phones not supporting NFC, the app will support a display-generated mobile ticket, both in visual and bar code form. Other features will include the opportunity to participate in transit rewards programs.
"Seamless travel remains a priority for the Department of Transportation and Public Works, and what this project with Cubic will deliver are options to enrich the traveler experience through open and mobile payments, as well as moving back office operations from us to Cubic – giving our agency the ability to focus on our core mission of creating a full range of well-synchronized mobility services within our community," said Alice N. Bravo, P.E., director of DTPW. "It's important for our transit system to incorporate the latest technologies, so this agreement represents another way that we are moving forward into the future of transportation. Our customers will be able to take advantage of a progressively broader range of service enhancements as they roll out in stages over the course of the next eight to 18 months."
Other updates under the modernization program will include upgrading and moving the Cubic back office system to the cloud, through Cubic's collaboration with Microsoft Corp., to take advantage of the Microsoft AzureTM cloud environment. The enhanced cloud platform, including the latest release of NextFare® along with NextAccount® and NextWave®, not only provides operational cost savings but also establishes the foundation for a broad range of new services and commercial partnerships.
"Capabilities, innovation, service delivery improvements and cost savings are recurring goals of our revenue management solutions, reflecting our customers' operational preferences," said Matt Newsome, senior vice president and general manager, Cubic Transportation Systems, Americas. "The Department of Transportation and Public Works is taking advantage of both its previous investments and those Cubic has made in its NextCity suite of hardware and software platforms. These platforms are designed to enable existing customers to extend the life of their systems while rapidly modernizing their fare programs by embracing the latest in state-of-the art payment, security, and mobile technologies."
About Cubic Corporation
Cubic Corporation designs, integrates and operates systems, products and services focused in the transportation, defense training and secure communications markets. Cubic Transportation Systems is a leading integrator of payment and information technology and services to create intelligent travel solutions for transportation authorities and operators. Cubic Global Defense is a leading provider of live, virtual, constructive and game-based training solutions, special operations and intelligence for the U.S. and allied forces. Cubic Mission Solutions provides networked Command, Control, Communications, Computers, Intelligence, Surveillance and Reconnaissance (C4ISR) capabilities for defense, intelligence, security and commercial missions.
About Passport
Passport is North America's leading mobile technology company specializing in enterprise business applications and payments for the public and private sector. Passport's product lines parking payments, transit payments, enforcement and permit management collectively serve to deliver dynamic tools for agencies to better connect with their communities. Its services have been adopted by over 20 of the top 50 cities in North America and over 2,000 locations including Chicago, Toronto, Boston, and Portland. Passport's mission is to reduce operational complexity and deliver intelligent data to improve decision making for its clients.
Passport is backed by a highly respected group of investors, including Grotech Ventures, Relevance Capital, and MK Capital. For more information, please visit http://www.passportinc.com.