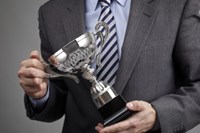 Cubic Transportation Systems (CTS), a business unit of Cubic Corporation (NYSE:CUB), and Abellio East Anglia, a subsidiary of transport provider Abellio Group, received the "Best Product/Innovation of the Year" award for NextAgentTM at the Global AirRail Alliance (GARA) Awards.
The announcement was made during the Global AirRail Alliance (GARA) conference, an annual event that gathers air and rail professionals to share ideas and best practices on how to connect air travel with intersecting rail at destination airports, held in Helsinki on November 10.
Cubic's NextAgent combines a virtual walk-up ticket office, a ticket vending machine and a video-linked call center. In October 2015, Cubic and Abellio Group partnered to trial NextAgent at Stansted Airport to assist passengers en route from plane to train and to their final destinations. Customer reviews conducted by a third-party research firm were extremely positive and indicate:
A third of the respondents stated that NextAgent would increase the likelihood of them using trains as the ongoing mode of transport to their end destination – perfectly highlighting the link between air and rail travel.
91 percent of users said they're likely to use NextAgent again when flying to/from Stansted.
93 percent of users said NextAgent was either better or the same as using a staffed ticket office window.
97 percent of users reported a positive experience using a virtual ticketing office like NextAgent.
NextAgent technology provides a virtual ticket office in remote locations where there is limited space for a full ticket office, and it's also an important customer information point. NextAgent operators can remotely answer customer questions, provide advice about best fares and reassure passengers about their onward travel. The ability to provide this service is central to the high value Abellio places on the customer experience.
"True innovation is hard to come by, so to be recognized in this category together with Cubic brings us real pride," said Jeremy Whitaker, head of commercial development at Abellio. "As populations grow and the needs of our passengers change, it is our job to make sure we are offering the best and most innovative solutions. Thanks to NextAgent we were able to deliver on our promise of offering an excellent customer service to passengers arriving at Stansted."
"NextAgent received overwhelmingly positive feedback from passengers and we're honored that its potential has also been recognized by the industry," said Roger Crow, executive vice president and managing director for Cubic Transportation Systems Europe. "NextAgent serves as a proof point that technological solutions can go hand in hand with the all-important human contact in public transit – providing efficient, best-in-class service, while always remaining a step away from real human interaction."
This is the third award Abellio Group and Cubic have received for NextAgent. The first win was in April 2016 for "Product Innovation of the Year" from SmartRail Europe, and the second was for ITS UK's "Product of the Year" in July 2016.
About Cubic Corporation
Cubic Corporation designs, integrates and operates systems, products and services focused in the transportation, defense training and secure communications markets. Cubic Transportation Systems is a leading integrator of payment and information technology and services to create intelligent travel solutions for transportation authorities and operators. Cubic Global Defense is a leading provider of live, virtual, constructive and game-based training solutions, special operations and intelligence for the U.S. and allied forces. Cubic Mission Solutions provides networked Command, Control, Communications, Computers, Intelligence, Surveillance and Reconnaissance (C4ISR) capabilities for defense, intelligence, security and commercial missions.