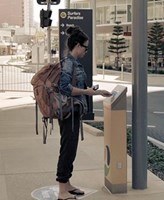 Cubic Transportation Systems (CTS), a business unit of Cubic Corporation (NYSE: CUB), today announced that John Horseman, key accounts manager at CTS, will participate in a panel discussion on scheduling and service design in the transportation industry at the European Bus Forum 2016 held at The University of Manchester, United Kingdom, on June 23. Eurotransport's fourth annual bus conference brings together industry leaders and operators to discuss operations strategy, vehicle specifications and management of disruptive technologies in the bus transport industry.
At the event, Horseman will highlight relationships between smart devices and open data as well as understanding and engaging customer needs in real time. An open data system, such as Cubic's OneAccount technology, enables commuters to use a single travel account for all travel transactions. The collected travel information not only gives travelers choices, but can also give city authorities unprecedented insights into how people commute and what's behind their decisions.
"No matter the transport mode, the explosion of available data is increasingly helping transit operators see how whole networks are operating -- what the loading is, where the pinch points are and who is loading the systems the most at those times. That understanding and the ability to communicate with travelers via their smart devices means that a variety of potential incentives are available to operators to even out the load," said Roger Crow, executive vice president and managing director of Europe, Cubic Transportation Systems. "Those incentives could be discounts or vouchers for favorite retailers, or they could come in the form of dynamic fares that automatically adjust based on the traveler's choices. Cubic's information and payment solutions such as OneAccount are transforming the traveler experience with seamless inter-modality and convenience."
Horeseman will take part in the following panel session:
Scheduling & Service Design Panel Discussion
Thursday, June 23, 12:45 p.m. – 1:55 p.m. at the Renold Building, University of Manchester, United Kingdom
Panelists: Georgio Ambrosino, MemEx Srl; Gordon Hanning, Transport Scotland; Simon Reed, Transport for London (TfL); John Knox, SPT; Tilo Franz, Hamburg-Consult GmbH; and panel chair Brian Masson, Multi Modal Transport Solutions.
Cubic has been a global leader in intelligent transportation solutions for more than 45 years, processing more than 24 billion transactions annually and serving more than 38 million people every day.
About Cubic Transportation
Cubic Corporation designs, integrates and operates systems, products and services focused in the transportation, defense training and secure communications markets. As the parent company of two major business units, Cubic's mission is to increase situational awareness and understanding for customers worldwide. Cubic Transportation Systems is a leading integrator of payment and information technology and services to create intelligent travel solutions for public transit authorities and operators. Cubic Global Defense is a leading provider of realistic combat training systems, secure communications and networking and highly specialized support services for military and security forces of the U.S. and allied nations.