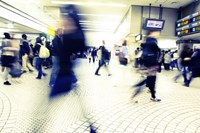 Cubic Corporation (NYSE: CUB) today announced that its Cubic Transportation Systems (CTS) business division was selected by the Massachusetts Bay Transportation Authority (MBTA) to design, build, operate and maintain a next-generation fare payment system, including account-based ticketing using mobile and contactless bankcard options for the region's multi-modal transit system. The base contract award for Cubic includes an approximate $575 million for implementation with ten years of operations and maintenance in addition to two five-year extension options.
An important aspect of the agreement is a public-private partnership (P3), in which Cubic and its partner John Laing arrange the funding for the implementation and operation of the new fare payment system. This P3 has the dual advantages of helping the MBTA finance this major capital updating program while transferring key risks to the Cubic | John Laing Consortium. The award has been approved by the MBTA's board and is subject to contract finalization.
Cubic partnered with John Laing, a recognized leader in the delivery of complex P3 projects including numerous public transit projects on the new system to replace the CharlieCard. The Cubic | John Laing Consortium, which was selected as the preferred bidder for the new system, will be the first P3 fare collection project in the U.S. Cubic, the system integrator for many well-known systems including those in London, Chicago, Vancouver and Sydney, will lead the implementation and design as well as operate and maintain the system upon completion.
"This isn't just the next generation of fare collection, but an entirely new way that our customers will interact with the MBTA," said Luis Manuel Ramirez, general manager of the MBTA. "The new system will be compatible with all modes and will provide more options for paying fares, and will have more fare media available for use. While we still have much work ahead of us in educating our customers in how the system will work, today is a major step forward in our partnership with the Cubic | John Laing team to completely transform and modernize our system of fare collection."
"The vote of confidence from the MBTA leadership is a tremendous honor for us and further demonstrates our market leadership," said Brad Feldmann, president and chief executive officer of Cubic Corporation. "Cubic | John Laing brings together the best-in-class expertise, technology, services and financial resources to ensure customer success."
"We have listened to and heard what Bostonians have to say about their aspirations for a new payment system, and we understand the challenges to transition from CharlieCard to the next generation system," said Matt Cole, president of Cubic Transportation Systems. "From the many focus groups we conducted; community groups we spoke with; conversations with city leaders; and, other important voices of Boston's culturally-rich neighborhoods, we are confident our system design addresses the accessibility and equity concerns of all the communities served by the MBTA, many of whom said they want simplified and seamless options for travel."
"We are absolutely delighted to have been chosen alongside our partners Cubic by the MBTA to make this significant investment in the Boston transit system," said Anthony Phillips, managing director, primary investment North America for John Laing. "This is an important milestone for the MBTA and for the transit industry, which recognizes the advantages of P3 procurement in delivering cost and schedule certainty."
The new system allows payment flexibility for customers including mobile payment, contactless debit or credit cards and agency-issued fare media for those without a bank card or who prefer not to use one. Additional access will be created through an extensive retail merchant network; optimum placement and types of ticket vending machines, kiosks and wide-aisle gates; an easy-to-use website for customers to review transactions, set up payment methods, enable autoloads and load value and products; and a mobile app that offers the same functionality as the website.
The new system allows customers to create personalized transit accounts to see ride history, check balances, add value as well as report lost or stolen cards to protect their funds. Mobile phones can also be used like ticket vending machines to check account balances and recharge fare accounts anywhere. As a result, customers will experience greater convenience and shorter lines, allowing them to move faster through the transit system.
Cubic will be responsible for the design, integration, supply and implementation of the new fare payment system as well as operational and maintenance services including platform and back office hosting; card fulfillment; financial services including clearing and settlement; and the retail merchant network. Equipment will include fare validators, fare gates and vending machines for all MBTA subway and rail stations, in addition to more than 1,000 buses.
"This is a significant win for Cubic, because the MBTA – until now the largest U.S. transit agency that was not a Cubic customer – has selected us for its next- generation fare payment system," said Cole. "We are proud and honored that the MBTA has chosen to partner with us on this critical project."
MBTA customers will be able to use CharlieCards during the transition.
About Cubic Corporation
Cubic Corporation designs, integrates and operates systems, products and services focused in the transportation, defense training and secure communications markets. Cubic Transportation Systems is a leading integrator of payment and information technology and services to create intelligent travel solutions for transportation authorities and operators. Cubic Global Defense is a leading provider of live, virtual, constructive and game-based training solutions, special operations and intelligence for the U.S. and allied forces. Cubic Mission Solutions provides networked Command, Control, Communications, Computers, Intelligence, Surveillance and Reconnaissance (C4ISR) capabilities for defense, intelligence, security and commercial missions.