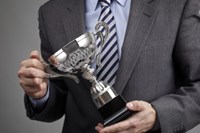 Cubic Transportation Systems (CTS), a business unit of Cubic Corporation (NYSE: CUB), today announced that its customer Chicago Transit Authority (CTA) received the 2016 Innovation Award for the Ventra Mobile App from the American Public Transportation Association (APTA). The product's success is based on the collaborative effort of Chicagoland transit organizations including the Chicago Transit Authority (CTA), suburban bus operator Pace and commuter rail Metra.
The Ventra Mobile App provides one-stop convenience for transit riders who travel on CTA's "L" trains or buses, Pace buses or Metra commuter trains – enabling the transit rider to plan, manage and pay for their journeys.
"We strive to produce customer solutions that use state-of-the-art technologies and best practices to ensure a sustainable and must-have product for their riders," said Matt Cole, president of Cubic Transportation Systems. "We listened to Chicago, heard their needs, collaborated with industry partners and delivered an industry-first convenient and intelligent product to its riders."
Ventra Mobile App's innovative features include:
Serving as an industry first for fully integrating transit services - allowing riders to purchase and manage fares across all three regional transit systems.
Offering integrated mobile ticketing on Metra.
Streamlining Metra'sconductor process to easily validate tickets on smartphonessimply by asking customers to tap their phone's screen.
Allowing riders to receive notifications when account balances arelow or when unlimited-ride passes are due to expire.
Tracking frequently traveled transit routes - enabling riders to view schedules and arrival times in advance for Metra, CTA and Pace.
Delivering the product on Apple and Android smartphonesand tablet devices
On the day of its launch in November 2015, more than 20,000 people downloaded the free Ventra Mobile App, which became the third most trending app on the App Store. On that same day, riders created 5,000 new Ventra accounts and more than 1,300 riders bought and stored 9,600 Metra ticket rides. To date, the app has been downloaded more than 800,000 times and customers have used it to purchase more than $55 million in fares across CTA, Metra and Pace.
About Cubic Corporation
Cubic Corporation designs, integrates and operates systems, products and services focused in the transportation, defense training and secure communications markets. Cubic Transportation Systems is a leading integrator of payment and information technology and services to create intelligent travel solutions for transportation authorities and operators. Cubic Global Defense is a leading provider of live, virtual, constructive and game-based training solutions, special operations and intelligence for the U.S. and allied forces. Cubic Mission Solutions provides networked Command, Control, Communications, Computers, Intelligence, Surveillance and Reconnaissance (C4ISR) capabilities for defense, intelligence, security and commercial missions.