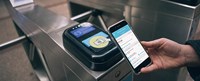 Cubic Transportation Systems (CTS), a business unit of Cubic Corporation (NYSE:CUB), today announced that the Ventra mobile app, launched last year with the Chicago Transit Authority (CTA), as well as the suburban bus operator Pace and the commuter rail system Metra, was downloaded more than one million times and used by Chicago-area transit users to pay for more than $110 million in fares.
The Ventra app, developed and launched by Cubic, CTA and its transit partners, Metra and Pace in November 2015, is a free, first-of-its-kind, regional transit application in the U.S. that allows customers who travel on CTA's "L" trains or buses, Pace buses or Metra commuter trains, to plan, manage and pay for their journeys using their mobile devices. Riders can add transit value and buy passes for all three operators through the app, set up auto-load features, check their balance and see transit purchase and travel history. The Ventra app also provides real-time push notifications and alerts, as well as travel information.
The app followed the implementation of the Ventra fare payment system, which Cubic and CTS developed and launched in 2013, in what was Cubic's first large-scale deployment of the NextAccount technology. Ventra supports both account-based processing through an agency-issued smart card, as well as open payment which enables customers to "pay as you go" with bank cards they already have or through mobile payment platforms including Apple Pay, Android Pay or Samsung Pay. Ventra also gives customers the ability to fund and manage their account online through a dedicated Ventra website, where they can take advantage of discounted fare products.
"The Ventra app truly transformed the way people across Chicago engage with transit each day," said Matt Cole, president of Cubic Transportation Systems. "The app provides riders with a convenient and integrated 'one-stop shopping' experience for all of their travel needs, which is central to Cubic's NextCity vision. We are confident the Ventra app will continue to serve Chicago's community for years to come."
"When we launched the Ventra app with Metra and Pace, our goal was to improve how Chicago commuters get to and from their destinations each day," said Michael Gwinn, director of revenue and fare systems, CTA. "Less than one year after launch, more than one million people have downloaded the app—further showing how important it is to continue to leverage technology that can help us improve the transit experience."
In September, the CTA was awarded the 2016 Innovation Award for the Ventra mobile app from the American Public Transportation Association (APTA).
The free Ventra app is available for download and use on Apple and Android smartphone and tablet devices via www.ventrachicago.com, the App Store and Google Play.
About Cubic Corporation
Cubic Corporation designs, integrates and operates systems, products and services focused in the transportation, defense training and secure communications markets. Cubic Transportation Systems is a leading integrator of payment and information technology and services to create intelligent travel solutions for transportation authorities and operators. Cubic Global Defense is a leading provider of live, virtual, constructive and game-based training solutions, special operations and intelligence for the U.S. and allied forces. Cubic Mission Solutions provides networked Command, Control, Communications, Computers, Intelligence, Surveillance and Reconnaissance (C4ISR) capabilities for defense, intelligence, security and commercial missions. For more information about Cubic, please visit the company's website at www.cubic.com or on Twitter @CubicCorp.