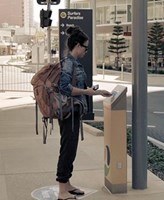 Cubic Transportation Systems (CTS), a business unit of Cubic Corporation (NYSE:CUB), today announced a contract extension of up to five years from the Metropolitan Transportation Commission (MTC) for operations and maintenance services supporting the regional Clipper® card fare payment system in the San Francisco Bay Area. The extended contract period is from November 2019 to November 2024, and is valued at approximately $25 million per year.
MTC is the transportation planning, financing and coordinating agency for the nine-county San Francisco Bay Area. Cubic has been providing services to MTC under a current ten-year services agreement that began when Cubic, in partnership with MTC, launched the Clipper card system to the Bay Area in 2009.
MTC plans to upgrade the Clipper system with new fare technologies, such as mobile payment. According to a recent MTC survey, 93 percent of customers reported that they are satisfied or very satisfied with the Clipper system and would like the agency to integrate new features to support MTC's goal of delivering a cost-effective and customer-focused system that supports a modern and seamless travel experience. Cubic's contract extension will support Clipper through the transition to the next-generation system.
"Maintaining the Clipper system to keep transit riders moving efficiently is our top priority, even as we work on future improvements. Each month, riders use nearly one million Clipper cards and we collect nearly $50 million in fares, so reliability is crucial," said Carol Kuester, director, MTC Electronic Payments.
Under the contract, Cubic will continue to support MTC and its regional partners for the Clipper system. Cubic operates the customer call center, Clipper card fulfillment and distribution, technical help desk, retail merchant network and the transit benefits system for employer/employee management of transit subsidies.
"Cubic has been providing services to the MTC since 2009 and we value our continued partnership," said Matt Cole, president of Cubic Transportation Systems. "We're delighted to extend our support to the MTC and its regional partners and look forward to serving their stakeholders now and well into the future."
Clipper is used by 22 regional transit operators and accounts for more than half of all Bay Area transit trips – approximately 800,000 trips each weekday.
About Cubic Corporation
Cubic Corporation designs, integrates and operates systems, products and services focused in the transportation, defense training and secure communications markets. Cubic Transportation Systems is a leading integrator of payment and information technology and services to create intelligent travel solutions for transportation authorities and operators. Cubic Global Defense is a leading provider of live, virtual, constructive and game-based training solutions, special operations and intelligence for the U.S. and allied forces. Cubic Mission Solutions provides networked Command, Control, Communications, Computers, Intelligence, Surveillance and Reconnaissance (C4ISR) capabilities for defense, intelligence, security and commercial missions.