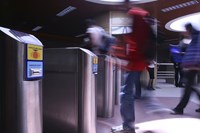 Cubic Transportation Systems (CTS), a business unit of Cubic Corporation (NYSE:CUB), today announced it was awarded a contract from Northern, the U.K.'s largest train operator outside London, to supply electronic gates at its stations. Northern will receive Cubic's next-generation, advanced electronic gating system at eight stations, for a total of 52 installed gates. The gates are equipped with ITSO-compliant smart card and barcode reading capabilities, in addition to accepting magnetic tickets.
CTS already completed the installation at two stations – Wigan Wallgate and Liverpool Lime Street – per the operator's requested September 30 deadline. The remaining six stations – Salford Cresent (Manchester), Bolton, Blackburn, Bradford Forster Square, Halifax and Harrogate – are scheduled to be completed by the end of March 2017.
"We are delighted to have Cubic on board, and with the dedication of the entire team, including Network Rail and our contractors, they were able to meet our requested deadline and complete the gate installation of these first two stations in less than two months," said Alex Hynes, managing director, Northern.
"We are proud to have been entrusted with this important contract for Northern and strengthen our foothold in the U.K. market," said Roger Crow, executive vice president and managing director for Cubic Transportation Systems Europe. "We delivered the first two stations in record time, thanks to a true team effort, and we're looking forward to delivering the remaining stations in an equally efficient manner."
About Cubic Corporation
Cubic Corporation designs, integrates and operates systems, products and services focused in the transportation, defense training and secure communications markets. Cubic Transportation Systems is a leading integrator of payment and information technology and services to create intelligent travel solutions for transportation authorities and operators. Cubic Global Defense is a leading provider of live, virtual, constructive and game-based training solutions, special operations and intelligence for the U.S. and allied forces. Cubic Mission Solutions provides networked Command, Control, Communications, Computers, Intelligence, Surveillance and Reconnaissance (C4ISR) capabilities for defense, intelligence, security and commercial missions.