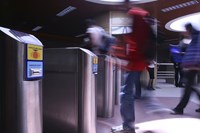 Cubic Corporation (NYSE:CUB) today announced that its Cubic Transportation Systems (CTS) business division was awarded a five-year contract extension worth more than $3 million to deliver maintenance services for the North County Transit District (NCTD), a regional partner in the San Diego County Compass fare payment system, designed and delivered by Cubic.
Cubic has provided services to NCTD since 2013, maintaining the agency's Compass ticketing machines and platform validators used by riders of the COASTER commuter rail and SPRINTER light rail. Cubic has also managed the ticket office terminals for Compass Card transactions by NCTD customer service representatives.
"Our highest priority is our customer service and Compass is an important part of that experience for our riders," said Matthew Tucker, NCTD executive director. "Our partnership with Cubic ensures continued support for our Compass system."
"We are excited to extend our work with NCTD and we look forward to even more opportunities working with the agency as it plans for future improvements," said Matt Newsome, vice president and general manager, CTS Western Region Americas.
In addition to the COASTER and SPRINTER, NCTD operates the BREEZE bus system, FLEX rural and on-demand service and LIFT paratransit – all of which accept the Compass Card. With a mission to deliver safe, reliable and user-friendly public transportation, NCTD provides 12 million passenger trips annually.
About Cubic Corporation
Cubic Corporation designs, integrates and operates systems, products and services focused in the transportation, defense training and secure communications markets. Cubic Transportation Systems is a leading integrator of payment and information technology and services to create intelligent travel solutions for transportation authorities and operators. Cubic Global Defense is a leading provider of live, virtual, constructive and game-based training solutions, special operations and intelligence for the U.S. and allied forces. Cubic Mission Solutions provides networked Command, Control, Communications, Computers, Intelligence, Surveillance and Reconnaissance (C4ISR) capabilities for defense, intelligence, security and commercial missions.