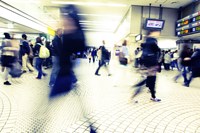 Cubic Transportation Systems (CTS), a business unit of Cubic Corporation (NYSE: CUB), and its subsidiary Urban Insights today announced the development of the Urbanomics Mobility Project, a new data analysis platform to fuel smarter, more inclusive cities.
Built in collaboration with MasterCard, the tool will help urban planners and commercial developers better understand the relationship between how people travel and what they buy to inform growth strategies and improve the quality of life for citizens of the world's premier cities. The Urbanomics Mobility Project will officially be previewed during Smart Cities Week in Washington, D.C. from September 15 – 17.
The initiative leverages Urban Insights' state-of-the-art big data analytics and visualization technology; Cubic's expertise in processing more than $24 billion per year in public transportation revenue; and powerful spending trends and insights derived from 43 billion transactions processed over the MasterCard network each year.
"This is a very deliberate smart city initiative between two industry leaders - combining their unique resources and knowledge to create a new data analysis platform for planning smart cities, growing their economies and putting in place critical transportation infrastructure and services," said Dan Collins, general manager of Cubic's Urban Insights.
The Urbanomics Mobility Project targets transit, urban planning and public service agencies; land-use authorities; city and regional governments; real estate developers; and merchants and other commercial businesses involved in site selection and development.
"An essential step in enabling smarter cities is to step-up the use of data available from multiple sources in order to help city leaders and planners make smarter decisions," said Hany Fam, executive vice president, Enterprise Partnerships, MasterCard. "By combining our respective analytics and insights, we'll be able to deliver a more holistic, up-to-date picture of how well an urban transport network enables access to services, retailers and attractions, making life better for residents and visitors."
"The urban investor community has been at a competitive disadvantage to their suburban counterparts because of the lack of reliable data to quantify the market potential of urban neighborhoods," said Shyam Kannan, professor of urban and regional planning, Georgetown University and managing director, Office of Planning, Washington Metropolitan Area Transit Authority. "This project holds the promise of actually quantifying the upside of the urban marketplace, which will provide investors an underwritable blueprint for investment strategies for urban neighborhoods and cities as a whole."
For urban planners, the prototype shows how the platform brings together public and private data in a way that, until now, was not readily available in a useable way for planning purposes. Urban Insights, Cubic and MasterCard will be working closely with city stakeholders to understand their needs as they develop, enhance and commercialize the joint solution.
The companies will be demonstrating how they break through these planning barriers at Smart Cities Week in the Urban Insights booth #15 at the Renaissance Downtown Hotel in Washington, D.C.
About Cubic Corporation
Cubic Corporation designs, integrates and operates systems, products and services focused in the transportation, defense training and secure communications markets. As the parent company of two major business units, Cubic's mission is to increase situational awareness and understanding for customers worldwide. Cubic Transportation Systems is a leading integrator of payment and information technology and services to create intelligent travel solutions for transportation authorities and operators. Cubic Global Defense is a leading provider of realistic combat training systems, secure communications and networking and highly specialized support services for military and security forces of the U.S. and allied nations. For more information about Cubic, please visit the company's website at www.cubic.com or on Twitter @CubicCorp.
About MasterCard
MasterCard (NYSE: MA), www.mastercard.com, is a technology company in the global payments industry. We operate the world's fastest payments processing network, connecting consumers, financial institutions, merchants, governments and businesses in more than 210 countries and territories. MasterCard's products and solutions make everyday commerce activities – such as shopping, traveling, running a business and managing finances – easier, more secure and more efficient for everyone. Follow us on Twitter @MasterCardNews, join the discussion on the Beyond the Transaction blog and subscribe for the latest news on the Engagement Bureau.