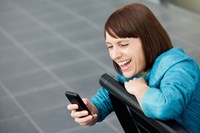 Cubic Transportation Systems (CTS), a business unit of Cubic Corporation, today announced the availability of the Ventra Mobile App for riders in "Chicagoland" in partnership with customers, Chicago Transit Authority (CTA), suburban bus operator Pace and commuter rail Metra.
The one-stop mobile app gives transit riders who travel on CTA "L" trains or buses, Pace or Metra commuter trains the ability to plan, manage and pay for their journeys for each of the region's agencies. This is an industry first for fully integrated regional transit services, combining visually validated mobile ticketing for Metra with the Ventra account-based open payment system initially deployed to CTA and Pace.
A primary benefit of the new app is the extension of the Cubic-supplied Ventra fare system to Metra riders, who can now purchase fares on their smartphones utilizing partner GlobeSherpa's mobile ticketing platform. The app allows riders to manage their Ventra accounts and use all three transit systems, and Metra conductors can now easily validate tickets on smartphones simply by asking customers to tap their phone's screen.
With the app, customers can manage their Ventra transit accounts, buy mobile tickets to ride Metra trains and receive notifications when their account balances are low or when unlimited-ride passes are due to expire. There is also an extensive 'Transit Tracker' feature that enables customers to view schedules and arrival times for Metra, CTA and Pace. In a later phase, customers will be able to download a virtual Ventra Card onto their near-field communication-compatible mobile devices, allowing them to access their Ventra transit accounts to pay for rides on CTA trains and CTA and Pace buses directly from the Ventra mobile app by touching their smartphone or other mobile device to a Ventra reader.
"This new app will dramatically change the way our customers use Metra because it will allow them to buy their train tickets anytime and anywhere," said Don Orseno, executive director and chief executive officer, Metra. "This is a tremendous step forward for our agency and we are more committed than ever to leveraging the latest technologies to enhance customer service."
"This is an exciting breakthrough for Chicago transit customers, who can conveniently access three transit systems in the Chicago area through a single mobile app. This means customers can travel, set transit value, passes and auto loads, get real-time account status push notifications, and get real-time bus and train arrival information, all with one place," said Mike Gwinn, director of revenue and fare systems for CTA. "Future releases will include door-to-door trip planning, additional account management tools and other enhancements to make riding around the region seamless and enjoyable."
"We've already seen how the new app has won over the riders who tested it. It's easy to use, navigate and delivers the information they need to their smartphones, which is where people go to help manage their lives every day," said Matt Newsome, senior vice president and general manager, CTS Americas. "For our customers, this demonstrates how collaboration results in innovative payment and information solutions, which will result in convenient and intelligent travel to its riders."
The Ventra mobile app became available on November 19 for use on Apple and Android smartphones and tablet devices via the App Store and Google Play.
About Cubic Corporation
Cubic Corporation designs, integrates and operates systems, products and services focused in the transportation, defense training and secure communications markets. As the parent company of two major business units, Cubic's mission is to increase situational awareness and understanding for customers worldwide. Cubic Transportation Systems is a leading integrator of payment and information technology and services to create intelligent travel solutions for public transit authorities and operators. Cubic Global Defense is a leading provider of realistic combat training systems, secure communications and networking and highly specialized support services for military and security forces of the U.S. and allied nations.