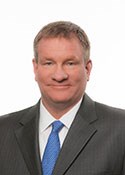 Cubic Corporation (NYSE: CUB) today announced that the National Association of Corporate Directors (NACD) has named Bradley H. Feldmann, president and chief executive officer, a NACD Fellow. The Fellowship program is the highest level of credentialing for corporate directors and corporate governance professionals.
To become a NACD Fellow, Mr. Feldmann demonstrated knowledge of the leading trends and practices that define exemplary corporate governance today and committed to developing professional insights through a comprehensive program of ongoing study.
"I am honored to join this prestigous and diverse group of individuals who make up the NACD Fellows community and who are committed to advancing the highest standards of boardroom leadership," said Feldmann. "The resources, insights and connections provided through the NACD's Fellowship program are extremely valuable and will be beneficial to Cubic."
"We are proud to announce Brad Feldmann has joined NACD's credentialed directors and has taken the next step in the pursuit of boardroom excellence," said Ken Daly, president and CEO of NACD. "Our fellows help advance the highest standards for those who serve in the boardroom, strengthening our businesses, and driving director professionalism. The impact of this program is unmatched and they should be commended for their ongoing commitment to their own professional development."
Candidates for NACD's Fellowship Program complete a robust foundation course which focuses on topical matters and committee-specific issues, and build on that foundation with additional NACD education within a 12-month period. NACD Fellows renew their Fellowship status every year, maintaining and advancing their knowledge through continuous education and peer-led insights.
About Cubic Corporation
Cubic Corporation designs, integrates and operates systems, products and services focused in the transportation, defense training and secure communications markets. As the parent company of two major business units, Cubic's mission is to increase situational awareness and understanding for customers worldwide. Cubic Transportation Systems is a leading integrator of payment and information technology and services to create intelligent travel solutions for transportation authorities and operators. Cubic Global Defense is a leading provider of realistic combat training systems, secure communications and networking and highly specialized support services for military and security forces of the U.S. and allied nations.
About NACD
The National Association of Corporate Directors (NACD) is the advocate for the profession of directorship and is focused on advancing exemplary board leadership. Informed by more than 35 years of experience, NACD delivers insights and resources that more than 16,000 corporate director members rely on to make sound strategic decisions and confidently confront complex business challenges. NACD provides world-class director education programs, national peer-exchange forums, and proprietary research to promote director professionalism, ultimately enhancing the economic sustainability of the corporate enterprise and bolstering stakeholder confidence. Fostering collaboration among directors, investors, and governance stakeholders, NACD is shaping the future of board leadership. To learn more about NACD, visit NACDonline.org. To become an NACD member, contact Kelly Dodd at kkdodd@NACDonline.org or 202-380-1891.