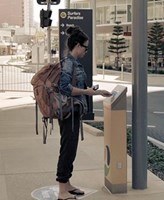 Cubic Transportation Systems (CTS), a business unit of Cubic Corporation, announced it has signed a three-year contract extension with TransLink commencing in September 2016, to continue operating and maintaining the go card smart card system in the Australian state of Queensland.
The announcement continues the contract between TransLink and Cubic until September 2019.
TransLink recently issued an Expression of Interest for the new go card system contract which Cubic has responded to.
The contract between TransLink and Cubic began in 2003 with the award of the region's first smart card-based integrated ticketing system and services for public transport in Southeast Queensland.
Today, go card is a reliable platform providing seamless travel for the region's 1.2 million rail, light rail, bus and ferry customers.
About Cubic Corporation
Cubic Corporation designs, integrates and operates systems, products and services focused in the transportation, defense training and secure communications markets. As the parent company of two major business units, Cubic's mission is to increase situational awareness and understanding for customers worldwide. Cubic Transportation Systems is a leading integrator of payment and information technology and services to create intelligent travel solutions for public transit authorities and operators. Cubic Global Defense is a leading provider of realistic combat training systems, secure communications and networking and highly specialized support services for military and security forces of the U.S. and allied nations.